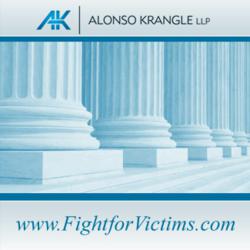 Alonso Krangle LLP offers free lawsuit evaluations to families whose children sustained serious injuries due to high-powered magnet toys. Contact Alonso Krangle LLP at 1-800-403-6191 or visit www.FightForVictims.com
Melville, NY (PRWEB) July 30, 2012
Attorneys Andres Alonso and David Krangle, founding partners of Alonso Krangle LLP, a national law firm focused on child safety and child product liability, applaud the recent action by the U.S. Consumer Products Safety Commission (CPSC) to ban the sale of Buckyballs and Buckycubes toys that contain high-powered, rare earth magnets. On June 25, 2012, the CPSC announced that it had filed a Buckyballs lawsuit against Maxfield & Oberton, the manufacturer of Buckyballs and Buckycubes, after the company refused to voluntarily pull these allegedly dangerous toys from the market. CPSC Docket No. 12-1 [http://www.cpsc.gov/CPSCPUB/PREREL/prhtml12/12234.pdf . According to the CPSC, despite warnings and one recall, children allegedly continue to be harmed from swallowing the tiny, high-powered rare earth magnets that make up Buckyballs and Buckycubes toys. In cooperation with the CPSC, a number of retailers have agreed to stop selling Buckyballs, Buckycubes and similar magnet toys immediately [cpsc.gov/CPSCPUB/PREREL/prhtml12/12234.html].
According to court documents Buckyballs and Buckycubes, which can contain as many as 215 magnets, are sold as toys and desktop accessories. The documents further state when two or more of these tiny magnets are swallowed, serious internal injuries, including bowel ulcerations, intestinal damage, blood poisoning, and even death, can occur when the magnets are attracted to each other through the victim's intestinal tract. According to the CPSC lawsuit, since 2009 there have allegedly been at least two dozen magnet ingestion incidents, with at least one dozen involving Buckyballs. According to the CPSC lawsuit, in March, a 3-year-old girl allegedly sustained three holes in her lower intestine and one in her stomach after swallowing 37 high-powered Buckyballs magnets. According to the CPSC lawsuit, a 4-year-old boy allegedly suffered a perforated intestine in January 2011 after he swallowed three magnets he thought were chocolate candy. According to the CPSC says it has also has received reports of toddlers finding loose magnets left within reach and placing them in their mouths, or accessing loose magnets left on a refrigerator and other parts of the home. In addition, tweens and teenagers have accidently swallowed or inhaled the magnets when using them to mimic tongue, lip or cheek piercings, the Commission said. [cpsc.gov/CPSCPUB/PREREL/prhtml12/12234.pdf]
Maxfield & Oberton issued a voluntary recall for Buckyballs magnet toys in March 2010 that were incorrectly marked for ages 13 and older, a violation of toy labeling standards. The CPSC stated that the Buckyballs recall was due to "The high powered magnets sets were labeled "Ages 13+" and do not meet the mandatory toy standard F963-08 (effective August 17, 2009) which requires that such powerful magnets are not sold for children under 14. Magnets found by young children can be swallowed or aspirated. If more than one magnet is swallowed, the magnets can attract each other and cause intestinal perforations or blockages, which can be fatal." [cpsc.gov/cpscpub/prerel/prhtml10/10251.html]
Other manufacturers, including MEGA Brands Inc, the maker of Magnetix toys, have issued several recalls following serious injuries to children. Two separate recalls of Magnetix toy sets were issued in March 2006 and April 2007, following more than two dozen reports of serious intestinal injuries occurring in children who had swallowed magnets. In 2006, more than 2 million Polly Pocket toys with the same type of magnets were recalled by Mattel, Inc. following three reports of serious injuries to children. [cpsc.gov/cpscpub/prerel/prhtml07/07039.html]
Alonso Krangle LLP agrees with the CPSC's conclusions that warnings are allegedly ineffective and cannot prevent injuries and incidents associated with Buckyballs and Buckycubes magnet toys. The firm is already representing children who were allegedly harmed by high-powered magnets from Magnetix Play Sets, and has seen first hand the misery these types of toys can inflict on children who accidently ingest the magnets.
Alonso Krangle LLP offers free lawsuit evaluations to families whose children sustained serious injuries due to high-powered magnet toys. To discuss a potential claim with one of the experienced and compassionate child safety lawyers at Alonso Krangle LLP, please contact us at 1-800-403-6191 or visit our website, http://www.FightForVictims.com.
About Alonso Krangle LLP
Andres Alonso and David Krangle, attorneys with almost 40 years of collective legal experience, have focused their law practice on the handling of significant product liability cases, defective drug and medical device litigation, construction site accidents, nursing home abuse, medical negligence, whistleblower actions and consumer fraud cases. A national law firm representing injured victims throughout the U.S., Alonso Krangle LLP is headquartered in Long Island, New York, with offices in New York City, and plans to open additional locations in New Jersey.
For more information about Alonso Krangle or to join the fight and be a part of our team, please contact us at 1-800-403-6191 or visit our website, http://www.FightForVictims.com.
Contact:
Alonso Krangle LLP
445 Broad Hollow Road
Suite 205
Melville, New York 11747
Toll-FREE 1-800-403-6191
Tel: 516-350-5555
Fax: 516-350-5554