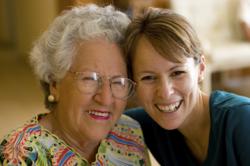 Assisted living options help many seniors continue to live as independently and engaged as possible.
Hingham, MA (PRWEB) July 31, 2012
There is no magical number to define the term "aging." What we know for sure is that growing older does lead to changing needs and abilities, particularly if we want to continue to live as independently and engaged as possible. Welch Healthcare & Retirement Group's Allerton House Assisted Living Communities help answer the question, "When is it time to consider assisted living, short-term rehabilitation or memory care for an older adult in your life?"
Frequent Check-ins:
As an adult child of aging parents, frequently checking on your parents' day-to-day routine and how they are dealing with everyday tasks will provide important clues about when they may benefit from some level of assistance. Start by asking yourself questions. Have your folks been unusually forgetful lately? Or is one of your parents neglecting basic grooming needs? Is the refrigerator stocked as it should be?
Evaluations over Time:
A one-time evaluation of needs usually does not suffice. Because the aging process is progressive, it is important for parents, their adult children, and parents' medical providers to monitor health, safety and well-being on an ongoing basis. As an adult child, the best way to do this is to be involved in your parent's lives as much as is possible. Also, keep in mind, that it is difficult to make changes.
Sometimes our aging parents are reluctant to move, even when they feel, deep-down, it might be the best for them. And sometimes, as adult children, it is hard for us to ask our parents to pack up a home they may have lived in for 30 or 40 years. At these times it's important to focus on what they might gain by living in a community of people who care about them. Imagine how an older parent might become re-engaged with activities they once found interesting.
The following key areas may help you and your family members make the right decision concerning the older adults in your lives.
Activities of Daily Living:
Activities of daily living (ADLs) are defined as those activities required to satisfy our basic daily needs. ADLs include dressing, bathing, feeding, getting into and out of bed, and getting to and from the bathroom. Others include being able to use the telephone, shopping for and preparing food, housekeeping, driving or using other means of transportation, doing laundry, paying bills, and managing finances.
Observations about Changing Patterns of Behavior:
A parent may need some help if you notice the following:

Is a parent wearing the same clothes every day?
Are you noticing poor grooming and hygiene habits?
Or, is the refrigerator empty, or does it contain spoiled food?
Is the house unkempt?
Is your older parent experiencing driving violations or getting into accidents?
Are bills unopened or unpaid?
Physical Health and Medication Management:
Conditions such as arthritis, high blood pressure, diabetes, and vision and hearing loss, as well as medical events such as a fall, heart attack or stroke require ongoing monitoring and management. Appointment scheduling, prescription renewal, proper medication management, and the ability to handle emergency situations appropriately are vital to maintaining the best possible health. Oftentimes, the medical condition that necessitates these tasks also makes it difficult for a senior to manage them.
Missed appointments, running out of medicine, forgetting to take medications, or taking too much medicine are indications that a parent needs assistance. Individuals recovering from a specific event may also require short-term services such as occupational and physical therapy. Those with conditions that require long-term daily monitoring, such as high blood pressure and diabetes, are prime candidates for the services of a visiting nurse or home health aide, or a community that provides assisted living.
Mental Health:
Declining mental capacity often necessitates help within the home or within a care facility. Many factors are involved when evaluating an aging parent's mental status, including medically diagnosed conditions such as depression, dementia, anxiety, or Alzheimer's disease. Memory loss, confusion, anxiety, social withdrawal, poor judgment, inability to follow directions, and disorientation are other signs of declining mental health.
Safety:
Inability to perform ADLs independently, frailty, vision loss, hearing loss, chronic disease, or declining mental capacity may compromise an aging parent's safety. Careful evaluation of the living environment with consideration for the parent's current abilities is necessary to avoid potentially catastrophic situations such as fires, falls, and the possibility of being taken advantage of.
Social Support:
Social interaction is both a sign of emotional health and a sign that we continue to be healthy. Activities such as talking to and visiting friends, going to the senior center, participating in trips and other activities, and spending time with family members strongly contribute to good emotional health. Signs that a parent may need support include no interest in leaving the house, sleeping for long periods of time, losing touch with friends, and a lack of interest in activities he or she once enjoyed.
Adult Children as Advocates for their Loved Ones:
A needs assessment by a trained professional or organization is a very valuable tool when parents and adult children are determining whether assistance is needed, what type, and at what level. However, nothing can replace a close, caring relationship between parents and their grown children. With open and honest communication, frequent contact and visits, and an in-depth understanding of current abilities and needs, parents and their adult children should be well-equipped to find the resources necessary to enhance parents' lives and meet their needs as they change and grow.
Welch Healthcare & Retirement Group is a Massachusetts based family-owned senior services company. Currently in its fourth generation of family leadership, the Welch Group operates and owns five assisted living communities, as well as rehabilitation and nursing centers, independent senior living communities, Alzheimer's and Memory Care centers, adult day health centers and a home health care company. Visit online at: http://www.welchhrg.com