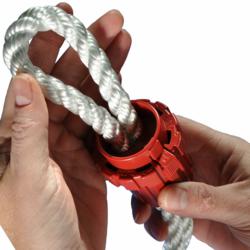 Super Rope Cinch makes securing items with rope simple as a twist.
Brentwood, TN (PRWEB) July 31, 2012
The Super Rope Cinch, a device that eliminates the need to tie and untie knots when securing items with rope, has just received patent number 8225463 from the United States Patent and Trademark Office.
The patent owners, Timothy Bourke and Dorothy Bourke filed the original request for patent on September 23, 2009. This past July 24, 2012, almost three years after the request for patent was filed, the United States Patent and Trademark Office assigned patent number 8225463 to the Super Rope Cinch rope tying device.
Tim Bourke, the inventor of the Super Rope Cinch, had this to say about receiving the patent and the challenge of gaining retail distribution: "The patent took almost three years to complete. The challenge of getting placement in retail stores has taken every bit as long. Introducing a brand-new product into retail and getting hard distribution is a very slow, arduous process. I can see why so many inventors simply give up after a short period of time. Inventing, marketing and distributing a brand-new product into retail is not for the weak."
The Super Rope Cinch is manufactured in the U.S.A. by Just Right Products LLC and is quickly becoming the universally accepted way to secure and un-secure rope instead of tying and untying knots thanks to its very basic design and simplistic ease of use. Using the device, most anyone can secure and unsecure rope from 1/8" to 5/8" in diameter using only a simple twist. For many, tying and untying knots is challenge. With the Super Rope Cinch, there's no need to ever tie or untie a knot again.
The applications the device can be used for are unlimited. Currently, it is considered a consumer product, and is used mainly for securing boats and personal watercraft to the dock, securing cargo and luggage to the roof of a car, and other household uses. However, Just Right Products LLC have plans for both commercial and utility uses in the near future.
The Super Rope Cinch is currently available at HomeDepot.com, Sears.com, and over 12,000 hardware centers and retail outlets.