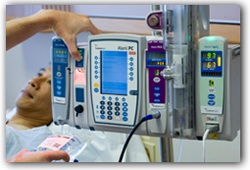 Realize that any new technology or technique may have unintended changes to daily routine, but remember that this is better than having an adverse event.
Chicago, IL (PRWEB) July 31, 2012
The Physician-Patient Alliance for Health & Safety (PPAHS), an advocacy group devoted to improving patient health and safety, today announced five tips on tow to improve patient safety with the help of technology
More than 10 years ago, the Institute of Medicine in its landmark report, "To Err is Human" pointed out that at least 44,000 people, and perhaps as many as 98,000 people, die in hospitals each year as a result of medical errors that could have been prevented. IOM therefore called for the building of a safer healthcare delivery system.
In 2009, ten years after the original IOM report, Consumers Union, the non-profit publisher of Consumer Reports, concluded in its report "To Err is Human - To Delay is Deadly":
"Despite a decade of work, we have no reliable evidence that we are better off today. More than 100,000 patients still needlessly die every year in U.S hospitals and health-care settings ..."
As Michael Wong, a recognized patient safety advocate with the PPAHS emphasized, "Implementing change to decrease adverse events and to increase patient safety can be difficult for hospitals and healthcare facilities to implement. But, improvements are possible. These five tips are just but a few recommendations for improving patient safety.
The five tips can be viewed in their entirety at ppahs.org
The five tips for patient safety were written with the following respected healthcare professionals:
Courtney Rowan, MD, pediatric critical care fellow, Riley Hospital for Children in Indiana
Anne Miller, RN, assistant professor at Center for Research and Innovation in Systems Safety at Vanderbilt University Medical Center (Nashville, Tennessee)
Tammy Haslar, RN, oncology advanced practice nurse at St Francis Hospital (Indianapolis, Indiana), says, caregivers need to make the necessary adjustments and keep in mind the adjustment is preferable to an adverse event.
About PPAHS
The Physician-Patient Alliance for Health & Safety (PPAHS) is an advocacy group devoted to improving patient health and safety. PPAHS, whose members include physicians, patients, individuals, and organizations, was inspired by Howard Snitzer, who survived 96 minutes without a heartbeat. Snitzer's resuscitation by volunteer paramedics and Dr. Roger White at the Mayo Clinic is a truly remarkable story.
PPAHS Executive Director Michael Wong is a graduate of Johns Hopkins University and is currently on the editorial board of the Journal of Patient Compliance, a peer-reviewed journal devoted to improving patient adherence. Wong is passionate about improving patient safety and health outcomes through technology like capnography, a type of patient monitoring.
For more information and to download the PCA safety checklist, please visit http://www.ppahs.org.