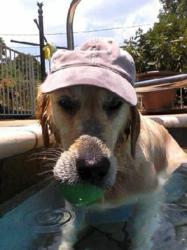 The Dog Days of Summer are RUFF!
Nashville, TN (PRWEB) July 31, 2012
Many people across the planet are noticing sweat dripping from their brow the moment they have stepped outside. What many are not noticing is the sweat dripping from their pet's brow? The reason why is dogs only have sweat glands in their paws and these glands only produce minimal amounts of sweat. This makes it difficult to tell when a pet is overheated. Since dogs walk around in a fur coat one can imagine how high their body temperatures can rise. According to the National Oceanic and Atmospheric Administration, more than 40,000 daily heat records have been broken around the country so far this year. The globally-averaged temperature for June 2012 marked the 4th warmest June since record keeping began in 1980 (NOAA). Since the dog days of summer are far from over Blue Chip Pet Care has put together some helpful prevention signs for heat stroke as well as tips and tricks to keep your pet cool. At Blue Chip Pet Care we are in the business of pet sitting and dog walking, so we see this first hand at both of our locations in Beverly, MA and Nashville, TN.
A couple things to take note of is your breed of dog. Bulldogs, Boxers and Pugs have smaller airways which makes it more difficult to get oxygen to the lungs. These breeds need extra attention and owners should always be cautious not to over exert. Also, breeds such as the Husky, Newfoundland, Australian Shepard, St. Bernard and many others also have a difficult time due to the thickness of their coats. These breeds have these unique coats for a reason, so always take extra caution when leaving these breeds outside to long. Owners should never leave a pet in the car. Even at 70°F (22°C) a car parked in the sun can can reach temperatures up to 100°F (38°C) within minutes, even with the windows cracked. While dog walking, you should take into account the temperature of asphalt. An air temperature of 77°(F) would be 125°(F) on asphalt. Skin damage can occur at 125°(F) and breakfast can be served at 131°(F) if you like fried eggs. These are some reasons why dogs are more susceptible to heatstroke than humans.
Warning signs for preventing heat stroke are rapid heavy panting, vomiting, collapse, diarrhea, Petechiae (pinpoint, deep-red hemorrhages on gums/skin), bright red mucous membranes on gums, conjunctive of the eyes, glassy eyes, refuse to obey commands, fever, and drooling. If any of these signs are noticed the best remedy is water, then AC or a nice cool place to lay. Owners should then call you local vet to check if further steps need to be taken. If going out of town, make sure your pet sitter is familiar with these warning signs.
A couple tricks to avoid heatstroke all together is to always make sure your pet has fresh water. Also, check the temperature of water, it does not have to be ice cold but replenished on a regular basis during hotter months. Some tips to help keep pets cool is invest in a baby pool, do not over exert your dog, consider dog boots for long walks, be cautious if using a choke collar, allow your dog outside when sprinklers are in use and move your pet to the garage or workshop if their is a nice concrete floor or another cool surface for them to lay on. Also avoid pet costumes in the hotter months. The summer months are meant to enjoy but always remember if the back yard feels like just another hot day to a human, pets might think they are visiting Death Valley.
Find out more about warning signs, tips and tricks by visiting our Pet Center or our Blue Chip Pet Care Dog Blog.