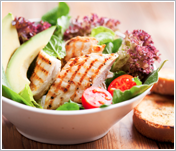 The recipes are at a sweet spot of calories - enough to fuel an active lifestyle without weighing anyone down, " - Dawn Jackson-Blatner, RD, CSSD
Skokie, Illinois (PRWEB) July 31, 2012
RETROFIT, LLC (http://www.retrofitme.com), the company dedicated to permanent weight loss, is giving free access to its exclusive recipe book, formerly reserved for clients. More than 400 Fit-Your-Life Recipes Under 500 Calories can now be easily downloaded at http://www.retrofitme.com/recipes.
"We feel a strong obligation to help build positive habits in a world that is not friendly to our waistlines," said Retrofit CEO Jeff Hyman. "By allowing free downloads of our recipe book, we found a simple way to share a powerful piece of our successful program."
Just a click of a button provides hundreds of ideas for using simple, fresh ingredients for easy-to-make healthy recipes. This guide can help reduce caloric intake and provide nutritional meals and snacks from breakfast through dinner.
The philosophy behind creating 400 Fit-Your-Life Recipes Under 500 Calories came from the author and Retrofit Advisory Board member Dawn Jackson-Blatner, RD, CSSD.
"The recipes are at a sweet spot of calories - enough to fuel an active lifestyle without weighing anyone down, "Jackson-Blatner said. "Recipes lower in calories make you feel cheated, deprived, restricted and honestly, just hungry. Recipes higher in calories can add up to weight gain, sluggishness and fatigue. So, we found the perfect balance for both nutrition and mental satisfaction."
Committed to combating America's obesity epidemic, Retrofit uses teams of experts to implement behavioral, nutritional and scientific methods to help clients lose a minimum of 10% of their body weight and maintain the loss for more than one year. More than 90% of Retrofit clients are losing weight.
The data-driven, expert-led approach to weight loss includes providing each client with wireless activity trackers, Wi-Fi scales and a personal team of wellness experts, including registered dietitians, exercise physiologists and behavior coaches, to stay accountable and reach goals.
"We are relentlessly pursuing the strongest results in the industry for our clients," said Hyman. "Major corporations throughout the country are motivated to help their employees benefit from the healthy improvements that our slow and steady weight loss approach delivers. By providing our clients with a personalized and unparalleled approach to weight loss, we are giving them the tools they need for success."
About Dawn Jackson-Blatner RD, CSSD
The author of The Flexitarian Diet and co-author of Counseling Overweight Adults: the Lifestyle Patterns Approach and Toolkit, Jackson-Blatner has been an expert resource for media outlets such as Dateline, Newsweek, USA Today, and Web MD. She has a private practice based in Chicago, IL, providing personalized nutrition counseling, healthy cooking classes and educational workshops.
Dawn was a national media spokesperson for the American Dietetic Association and has 13 years experience working with clients to improve health outcomes such as obesity, diabetes, high cholesterol, high blood pressure, heart disease and cancer. She received Lifetime Television 2011 "Remarkable Woman Award" for her work in the field of nutrition. She holds a BS in Human Nutrition and Food Science from University of Illinois at Urbana-Champaign.
About Retrofit
RETROFIT was founded with the simple mission to help people lose at last 10% of their body weight and keep it off for more than one year. RETROFIT arms its clients with wireless data collection devices to ensure accountability, as well as a personal team of wellness experts to design a custom-made plan for weight management.
Retrofit can be found on the Web at http://www.retrofitme.com and 855-4-RETROFIT. Follow the company on Facebook at http://www.facebook.com/retrofitweightloss and Twitter at @Retrofitme.
To set up interviews with Dawn Jackson-Blatner or for permission to publish the recipes, please contact Jennifer Zeidler at jenniferz(at)retrofitme(dot)com.