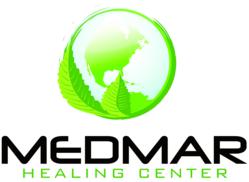 People can often underestimate the importance of donating blood and it is often in short supply when people need it the most
(PRWEB) July 31, 2012
Understanding that saving lives can be fun for the whole family , the professionals at MedMar Healing Center recently played host to a charity blood drive that enjoyed a turnout much greater than even organizers expected.
Dippin Dots, a Taco truck, arts & craft booths, and live music were some of the fun activities. The buses were packed throughout the event with people of all ages donating blood. This family affair featured music by Maxx Cabello Jr. as well as free food and shirts to everyone who donated blood.
MedMar Healing Center could not make this event a success by doing it alone and partnered with Blood Bank of the Pacific to put together this festival with over 400 people in attendance. In total, Blood Heroes collected over 65 pints of blood; enough to potentially save the lives of 175 people. The cannabis club noticed the high attendance as a sign of how important those in the community can care for others.
"The goal of this event was to bring community awareness the critical need for life saving blood," said Douglas Chloupek, a representative from MedMar. "It's an amazing feeling to know that our joint efforts helped save 175 lives."
"People can often underestimate the importance of donating blood and it is often in short supply when people need it the most," said Chloupek. "We consider the community to be family and we felt by promoting the benefits of giving, we could reach out and help those around us."
About MedMar Healing Center
MedMar Healing Center is a grassroots, community-based San Jose medical cannabis club that offers support and alternative health resources to people facing health challenges. Their primary goal is to advocate a proactive approach to health management by providing a local, affordable, and safe environment to dispense medical cannabis and other alternative health services.
MedMar provides residents of San Jose and Silicon Valley with medical marijuana in many forms, including flowers, hash, edibles, and concentrates. MedMar Healing Center tests each of their strains of medicine for a Cannabinoid profile, which helps their knowledgeable staff recommend the best medicine for the diverse ailments of each client.