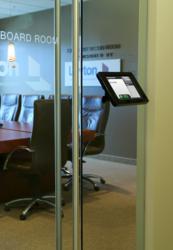 This type of hardware-software relationship is invaluable to businesses
Sandy, Utah (PRWEB) July 31, 2012
As companies seek to streamline inefficient processes with the iPad, they are buying locking iPad kiosk hardware and software solutions to securely use their tablets in many corporate environments. App developer Ender Labs recently partnered with iPad Enclosures to strengthen their business-to-business sales and marketing of EventBoard, their conference room scheduling app. This type of hardware-software relationship is invaluable to businesses needing secure iPad mounting solutions, as well as simple intuitive business apps, such as EventBoard.
EventBoard provides a fast and easy way to show upcoming events and coordinate room reservations by syncing with the iPad's Calendar function. Users can access the app on an iPad, which can be easily secured and mounted outside the conference room, to check the upcoming schedule and reserve the room for an available time. The app integrates with any of the supported calendars on the iPad including Microsoft Exchange, Google Calendar, and AOL. Other EventBoard features include a "Private Meeting" display, welcome screens, event titles, and real-time updates through push data.
The newly released EventBoard Pro integrates a powerful web interface that allows businesses to remotely manage their accounts and all of their devices from one central location. This feature is perfect for large scale and enterprise level deployments. The online device management tool allows users to remotely choose which calendar the iPad displays, change conference room display names, set display brightness, set rules of operation, and change the app's theme. Ender Labs also provides services to customize the conference app with desired color schemes, company logos, or entirely new themes, depending on each customer's needs.
In order to securely display the iPad outside of conference rooms, iPad Enclosures provides many solutions for mounting the iPad to almost any type of surface, including glass, wood, or metal. When purchasing through iPad Enclosures, businesses can buy turn-key packages which include their choice of iPad lock products, along with an iPad pre-loaded and configured with the EventBoard app. This provisioning service is very beneficial for businesses that need to make large deployments of these conference scheduling kiosks. According to Scott Jensen of Ender Labs, "the added benefit of hardware and installation solutions from iPad Enclosures enables EventBoard to fit the needs of any office space."
With this new partnership between iPad Enclosures and EventBoard, users can more easily coordinate a network of conference rooms, equipped with securely displayed iPads, remotely from one simple interface.
About iPad Enclosures
Located in Utah's "Silicon Slopes," the fastest growing technology seat in the country, iPad Enclosures is an enterprise-level tablet solutions company that manufactures hardware, builds software, and designs mobile apps to meet customers' needs worldwide. Visit http://www.ipadenclosures.com for more information.