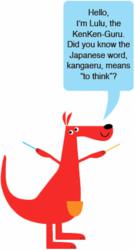 Whoopee! I think I'm in KenKen heaven.
Pleasantville, NY (PRWEB) July 31, 2012
KenKen® Puzzle LLC is proud to present LuLu the 'KenKen Guru', who loves to help students with their math skills and is eagerly looking forward to another school year of arithmetic action and achievement! LuLu spent the 2011-2012 school year hopping from classroom to classroom showing students how entertaining KenKen can be. Teachers also love LuLu because, at the same time as the students are enjoying the math puzzles she brings, they are also learning valuable math and problem solving skills.
Through the KenKen Classroom Program (KKCR), Nextoy LLC distributes its groundbreaking math games to teachers all over the world at no charge whatsoever. Participating teachers receive printable puzzle sets every week that are suitable for all ages and skill levels and can be used to fulfill a variety of roles in the classroom. From homework to extra credit to a free time or enrichment activity, KenKen is always fun, challenging and educational. An elementary school said, "KenKen is great for the development of math skills and the kids love it; they don't see it as math, more as a fun activity." Watch a video that shows teachers' enthusiasm for KenKen here.
KenKen makes use of the basic mathematical operations — addition, subtraction, multiplication, and division — to help students develop better problem solving abilities and increased confidence in their own math skills. It's like Sudoku with real math. Self-confidence is critical for any math student, and KenKen helps build that confidence for all age and difficulty levels. "I was able to see a change in the confidence level of my students," said one 6th grade teacher, "I liked the way that students were challenged on their own level and at their own pace." Whether students are struggling with assigned material or busy mastering advanced concepts, they can always learn from and be challenged by KenKen puzzles. Free puzzles for beginners and advanced puzzlers can be accessed every day at the KenKen website.
Teachers and students alike rave about the entertainment and educational value of KenKen; a high school teacher said, "I couldn't believe how the students responded to doing math on their own. At the end of the year, several students asked for more KenKen to do over the summer!" There aren't many math activities that students would ask to do during their summer vacations.
LuLu the KenKen-Guru will be bringing KenKen puzzles to classrooms around the world this school year, enhancing the educational experience for students of all ages. Upon discovering the usefulness of KenKen math puzzles in his class, one teacher/principal exclaimed, "Whoopee! I think I'm in KenKen heaven."
About Nextoy:
Nextoy LLC was founded in 1981 by Robert Fuhrer. For more than 30 years, Nextoy has been connecting original toy and game ideas with the people who market them. Nextoy acquired the worldwide rights for KenKen in 2007 and serves as product placement specialists in the fields of toys and games, publishing, gifts and novelties. Nextoy, LLC clients include: Hasbro, Mattel, SpinMaster, The Sharper Image, Uncle Milton Industries, Crayola, Bandai Japan, Irwin Toy, Basic Fun, St. Martin's Press, HarperCollins, Capcom, Goliath Games, Seven Footer Press and Winning Moves Games.