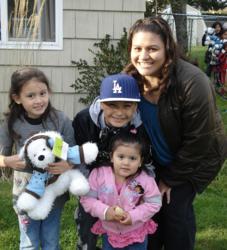 This is my neighborhood - I want it to be a safe place for my kids. I don't want them making the choices I made. I want them to have options and to know they can reach for the sky.
Portland, OR (PRWEB) July 31, 2012
Pathfinders of Oregon, in conjunction with the Multnomah County Health Department, is initiating a multi-partner, community building effort to prevent youth violence in a gang impacted neighborhood in the Portland-Gresham area. Youth violence in the Rockwood/East Multnomah County area is an increasingly serious problem negatively impacting community health and safety.
The Rockwood Community Health Neighborhood will stabilize families, prevent youth violence and improve community health and safety. At the movement's heart is the belief that an investment in children and parents – an investment in families – is an investment in our community, and ultimately in our nation.
Rockwood is experiencing high and growing levels of youth violence, with police now estimating that approximately 1,200 youth and young adults are involved in gang violence. The area is also seeing increased family poverty, unemployment and other indicators of community distress: the youth population has risen dramatically - in the five core census tracts nearly one third (29%) of the population is under age 18; unemployment exceeds 13%; 70% of children receive free or reduced price lunches; and 50% of Multnomah County child welfare cases are in East County.
Sandra Casillas has experienced the impact of youth violence from two perspectives – as a former gang member and now as a parent leader in Rockwood. Casillas is an active participant in community meetings and through her work at the Center for Family Success. Casillas says, "This is my neighborhood - I want it to be a safe place for my kids. I don't want them making the choices I made. I want them to have options and to know they can reach for the sky."
Because of the newness of this challenge, the systems and social structures in Rockwood aren't set up to address family needs. Churches and other community organizations are unprepared to respond to, or often to even recognize, youth violence and gang activity. They have been searching for solutions to strengthen their community and make it safe again.
In late spring, representatives from public, private and nonprofit agencies held a forum to discuss the issue of youth violence prevention and what the community could do to reduce it. Representatives from law enforcement, county health, community justice, Oregon Youth Authority, the schools and social service agencies agreed that collaboration was the only way to address the problem.
Two key needs emerged from the forum: 1) access to services needs to be simple and streamlined for families, and 2) participating agencies need to be able to share data quickly and easily. In searching for strategies to meet these needs, Pathfinders found Project Access NOW, a unique agency connecting individuals without medical insurance to the critical care they need.
Pathfinders and Project Access NOW are working with a network of social service agencies that will collaboratively connect families in crisis to much needed resources. The Youth Violence Prevention HUB will use trauma-informed practices to reduce the stress put on clients seeking services. Data-sharing and information tracking within participating agencies will enable clients to seek and receive needed services with a minimum of red tape. The HUB will oversee coordinated case management and provider collaboration, while designated agencies lead youth and their families along Pathways that result in successful outcomes.
The Rockwood Community Health Neighborhood, a coalition of more than 20 organizations, shares a commitment to creating lasting social change by providing schools and parents the tools to create healthier families and safer communities. Even at this early stage, the impact of the campaign can be seen as it raises awareness about children's issues and mobilizes the community around breaking the cycle of criminality that now traps children and families.
About Pathfinders of Oregon
Pathfinders of Oregon is a 501(c) 3 organization whose mission is to break the cycle of criminality. Pathfinders has taught programs within the Oregon Department of Corrections for 20 years. In the community it offers programs to families impacted by incarceration through its Center for Family Success and operates an alternative education program for pregnant and parenting teens at its Pathfinder Academy.