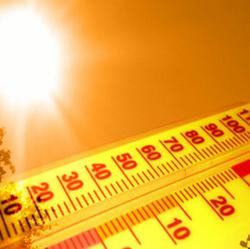 A person can be seriously affected by the heat with little or no warning if the proper precautions are not followed
Neptune, NJ (PRWEB) July 31, 2012
The first half of 2012 could arguably be called the hottest on record in the United States. According to the National Oceanic and Atmospheric Administration (NOAA), more than 40,000 daily heat records have been broken nationally so far. This is surprising because traditionally the hottest months are generally July and August.
The apparent increase in daily temperatures means that there is more exposure to heat in normal daily life, and that poses risks. An elderly or sick person's body is not able to adjust to temperature changes like a younger healthy person does. So going from an air conditioned home to the extreme heat outside could have significant affects.
Here are some safety tips to help deal with these HOT days.

Staying hydrated by drinking more water than usual is of utmost importance. During activity and physical work outdoors staying in the shade is advisable also it's very important to stay hydrated by drinking water both during heat exposure and afterwards.
Avoiding caffeinated beverages such as soda, coffee, etc is recommended. Caffeine increases the body's need to urinate, which dehydrates the body.
Sports drinks do help. Many sports drinks contain nutrients and help the body maintain the fluids that it needs.
Being aware of the signs of Heat Exhaustion such as sweating, muscle cramping, dizzy, weakness, headache, fainting, tired, pale skin tone is also important.
Being aware of the symptoms of Heat Stroke such as high body temperature, rapid pulse, headache, hot and dry skin with no sweat, and nausea can help recognize a very serious health hazard.
Chief Don Colarusso, a firefighter for more than 24 years and leading supplier of CMC Rescue Equipment, said "Exposure to the heat can be very dangerous. A person can be seriously affected by the heat with little or no warning if the proper precautions are not followed - the most important thing is to keeping hydrated."