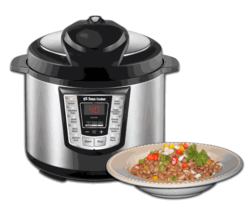 I'm in love with this EZ Bean Coker! ...The best part is no soaking required of the beans...
Denver, CO (PRWEB) July 31, 2012
Jaden Hair, of the blog Steamy Kitchen, recently tried the EZ Bean Cooker, stating, "I'm in love with this EZ Bean Cooker! We've used it several times now. The best part is no soaking required of the beans (I never remember to soak them the night before anyways)." From now through October 10, 2012 Steamy Kitchen is participating in an EZ Bean Cooker giveaway. Simply visit Steamy Kitchen's giveaway page then enter your name, email address, and answer one simple question. In addition to their great giveaways, Steamy Kitchen features plenty of recipes with beautiful food photography.
The EZ Bean Cooker is a small, electric kitchen appliance that uses pressure cooking technology to cook dry beans quickly, with no presoaking necessary. Simply add ingredients to the cooker, select the preset bean variety button, push "Start" and walk away. The EZ Bean Cooker cooks most beans in 60 minutes or less. With a simple recipe book that features one-pot meals, the EZ Bean Cooker is an essential kitchen appliance for busy families, people interested in healthy meal options and those that just love beans.
For many who are unfamiliar with cooking dry beans, they can be an intimidating food to prepare. However, with the EZ Bean Cooker and its user-friendly preset bean variety buttons, dry beans become an easily accessible food for even the most inexperienced cooks.
It is important that beans are an easily prepared food because of their high nutritional value, versatility, and economical price. While food prices soar due to drought, dry beans continue to be a money-saving, protein-packed alternative to traditionally higher priced meat protein sources. According to the USDA's Choose My Plate dietary guidelines, beans are included in two categories – both the Vegetable group and the Protein Foods group. Not only are they a good source of protein, beans are rich in nutrients like potassium and folate, low in fat and high in fiber.
By offering a time-saving, affordable and simple to use product, the EZ Bean Cooker provides people with an easy way to be healthy and eat more nutrient-rich beans. The EZ Bean Cooker sells for $99.99 plus shipping and taxes where applicable. It is sold on the EZ Bean Cooker website and via their customer service representatives at 1-800 EZ BEAN1 (1-800 392-3261). For additional information on the content of this release and the EZ Bean Cooker, please contact Meghan Walker or visit http://www.ezbeancooker.com.
Meghan Walker, National Sales and Marketing Manager
EZ Bean Cooker, LLC
1-800-392-3261
http://www.ezbeancooker.com