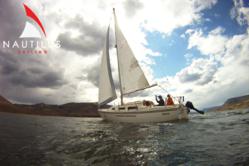 We had a great sailing course and learned a lot! Amy, July 2012
Crested Butte, CO (PRWEB) July 31, 2012
We Coloradans are an adventurous bunch. Just take a look in our garages, and you'll be greeted by gear covering a multitude of sports; skis, mountain bikes, kayaks, climbing gear, fishing rods, and more, to help us fuel our outdoor passions. So now, sailing in the mountains? Enter Nautilus Sailing, an award winning American Sailing Association school, that has set up shop on Blue Mesa, Colorado's largest lake. They are discovering that many adventurous Coloradans have sailing dreams.
Blue Mesa, is located just west of Gunnison, off Hwy 50. Local sailing instructor Tim Geisler says, "Blue Mesa is Colorado's best kept sailing secret. With 96 miles of shoreline, lots of scenic inlets to explore, and consistent afternoon winds, the sailing is fantastic." The summer of 2012 has seen a steady stream of eager learners come to the area for intensive weekend sailing courses. Students come from the Western Slope, the Front Range, and as far as Wyoming, New Mexico and Utah, to learn how to sail.
A typical weekend course starts with a 3 hour theory class on a Thursday night, covering everything from the theory of sail and terminology, to federal requirements and basic chart reading skllls. Friday through Sunday, course participants spend on the water, learning to sail on a 25 foot sailboat. Raising and trimming the sails, docking, mooring, anchoring, heavy weather sailing techniques, man overboard drills; with all hands on deck, each student learns by doing. "It's an intensive course," says Nautilus Sailing, "but we want people to leave with the skills and confidence to safely embark on their own sailing adventures." One recent sailing student said, "I wasn't sure what to expect and did not think I would walk away from one weekend feeling this confident. I can't wait to take the next class!"
"We love being able to introduce people to sailing, and seeing where their own sailing journeys take them," says instructor Tim Geisler. "We have students that go out and buy sailboats after their weekend course, and we have other students that start chartering sailboats." So, for those of you adrenalin-seeking Coloradans that have dreamed of sailing off into the sunset, who knew that the journey could be embarked on right here in Colorado?
Nautilus Sailing offers Complete Weekend Sailing courses most summer weekends for only $599, on Blue Mesa.