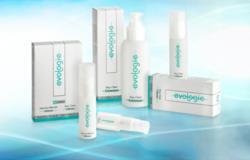 Change people's skin and change their lives
New York, NY (PRWEB) July 31, 2012
Blemishes and problem skin can undermine a consumer's confidence and affect their daily lives. Evologie®'s new Stay Clear products have been developed to address the multiple causes and complications associated with pimples and blemishes. They have been scientifically developed and incorporate medical research and technological innovation, coupled with proven high levels of clinical testing and compassionate understanding. These qualifications are what make Evologie® skincare products "the best way to take care and treat problem skin." This high-performance skin care line consists of three high performance face products:
Intensive Blemish Serum, a potent treatment that rapidly resolves blemishes and pimples, Stay Clear Cream, a blemish and pimple cream that keeps skin clear and hydrated, reduces the frequency of breakouts, post-blemish scarring and skin discoloration and Stay Clear Cleanser, an advanced, non-drying formulation containing natural cleansing agents, anti-bacterial ingredients and keratolytics, to unclog pores, remove oil, bacteria and debris while maintaining the skin's natural pH balance.
BEAUTYSTAT.com -- the leading online beauty community for skincare reviews and make-up reviews -- is looking for consumers who want to experience these exciting new products and amazing skin transforming results of Evologie® Skincare.
Clinically supervised trials carried out on males, females, teens, and adults of all skin types produced the following results:
Controls disruptive, eruptive skin – 97% experienced reduced redness and inflammation
Clears blemishes rapidly and effectively - 98% showed immediate reduction of blemish size
Reduces scarring and lightens dark spots - 94% showed a reduction in appearance of scarring and dark spots
Non-irritating and non-drying – 97% developed smoother, moisturized and healthier skin texture.
Why Evologie® Stay Clear products work so well:
YS3 Complex® is what sets Evologie® Stay Clear pimple treatment products apart and makes them more effective and efficient than any skincare products. Each product contains this patent-pending revolutionary delivery system developed by Evologie®. It consists of ingredients that help rapidly transport and enhance the absorption of micronized natural ingredients deep below the skin's surface. It increases blood flow, helps nourish and heal skin and keeps skin hydrated by reducing trans-epidermal water loss.
Become the first to use Evologie® Stay Clear Skin Care and compete to win a $200 American Express gift card!
Win a great prize for blogging and spreading the word to friends, family and community!
Here's how it works… The first part of the contest is to check out the Evologie® website and read about this innovative product line.The website also includes video testimonials from actual users.
Then request product samples and blog about it.
The second part of this contest is to spread the word to as many people as possible. The winning blogger will be the one who directs the highest number of people to the Evologie® website to request a sample within 30 days from posting a blog. Email Evologie(at)BeautyStat(dot)com for details on how to get started. This offer expires on August 29th.
Evologie® is committed to developing the best products.They aim to:
Develop breakthrough technology with unprecedented results Find the most effective way to get these ingredients deeper into the skin, directly to the source of problems.
Create a performance-driven brand with a dynamic team dedicated to delivering skincare at its most evolved. Change peoples' skin and change peoples' lives.
Evologie® products are available for purchase only on the Evologie® website. To request samples and for more information about Evologie®, Evologie® Stay Clear products, and YS3 Complex™, please visit evologie.com. or call (888) 477-5256 x712.
ABOUT BEAUTYSTAT.COM
BeautyStat.com is a leading online beauty community -- consisting of beauty product reviews -- and social marketing agency for the beauty industry. It has been featured in Women's Wear Daily, New York Times,Forbes Magazine, NBC and CBS News. The strength of BeautyStat.com is its captive, engaged and influential 100,000+ community, 190+ blogger network and 40 million social network reach. BeautyStat.com works with beauty brands, retailers and PR agencies to connect them to the BeautyStat community for online PR events, advertising and rich consumer insights.