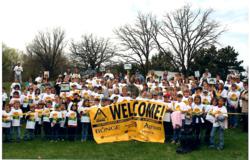 Supporting tomorrow's farmers and ranchers through training and leadership programs helps ensure a bright future for the agricultural industry.
Denver, CO (PRWEB) July 31, 2012
The average age of the American farmer is 57 and according to the USDA, about 70 percent of the nation's farmland will change hands in the next two decades. Farm Credit, a national provider of financing and related services to agriculture and rural America, is working to ensure that the next generation will be ready to pick up where today's leaders leave off through the National Contributions Program.
"Farm Credit's National Contributions Program awarded 23 grants and sponsorships totaling more than $735,000 in the second quarter of 2012," said Christina Bowen, director of national contributions for Farm Credit. "Supporting tomorrow's farmers and ranchers through training and leadership programs helps ensure a bright future for the agricultural industry."
Farm Credit's National Contributions Program awards contributions in three primary focus areas:

Advocates for Agriculture: primarily trade organizations that improve the lives and livelihoods of farmers and ranchers through policy impact
Friends of Agriculture: organizations that foster a healthy agriculture industry through consumer education and communication
Producers of Tomorrow: organizations that provide youth agriculture education and/or young, beginning, small farmer programs
The following are a few of the programs focused on producers of tomorrow that received awards in the second quarter review.
Agriculture Future of America's (AFA) Annual Conference supports college students preparing for careers in agriculture-related fields. Farm Credit's sponsorship of the 2012 Leaders Conference (Nov. 1-4, Kansas City, Mo) provides a forum for updates and discussions on industry trends, and helps students bridge the gap between academic, leadership and work experiences to develop personal and professional skills for lifelong success.
Each year at the National Beef Ambassador Competition, five outstanding young people are selected from among hundreds of participants to serve as American National Cattlewomen Beef Ambassadors. Farm Credit's contribution will support the 2013 competition (Sept. 28-30, Sacramento, Calif.), where participants will demonstrate their knowledge of modern beef production, their commitment to raising healthy animals, beef safety, nutrition, and environmental stewardship.
Farm Credit representatives will lend their expertise as judges of the 2012 Eastern States FFA Star Recognition Program (Sept. 14-20, West Springfield, Mass.). The high-level competition recognizes top FFA students from 14 eastern states for excellence and achievement in scholarship, leadership and supervised agricultural experiences. The awards ceremony and luncheon will feature keynote speaker Jim Putnam, Farm Credit East executive vice president of marketing.
Progressive Agriculture Foundation's mission for Farm Safety Days is to make farm and ranch life safer and healthier for all children. Farm Credit's support enables the program to offer in-depth training for community representatives who conduct customized local safety day programs to address specific concerns within their agricultural communities.
Farm Credit will provide $2 million in funding this year to support the lives and livelihoods of farmers and ranchers. The national funding complements local and regional giving provided by Farm Credit entities across the United States and Puerto Rico.
The Farm Credit National Contributions Program's application deadline for the third quarter of 2012 is August 31 Qualified applicants are invited to apply today at http://www.farmcredit.com. Click on the "Apply for Grants and Sponsorships" button.
For a complete list of Farm Credit National Contributions program second-quarter 2012 recipients, please visit farmcredit.com/contributions.
About Farm Credit: Lending Support to Rural America
For nearly a century, Farm Credit has been a national provider of credit and related services to rural America through a cooperative network of customer-owned lending institutions and specialized service organizations. Created by Congress in 1916, the Farm Credit System provides more than $175 billion in loans and leases to farmers, ranchers, rural homeowners, aquatic producers, timber harvesters, agribusinesses, and agricultural and rural utility cooperatives. For more information about the Farm Credit System, please visit http://www.farmcredit.com.
Media Contact:
Margaret Fogarty
(303) 721-3284
Margaret(dot)Fogarty(at)farmcredit(dot)com
twitter.com/farmcredit
facebook.com/nationalfarmcredit
blog: farmcredit.com/aggregator