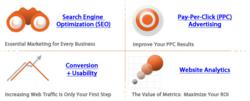 SmartSearch Marketing helps their clients generate leads, acquire new customers and position brands online
Boulder, CO (PRWEB) July 31, 2012
SmartSearch Marketing, a full-service search engine marketing agency, and a Google Adwords Certified Partner, announced today that it offers complimentary search engine optimization (SEO), pay per click (PPC) and website usability and conversion audits for B2B marketers. The SmartSearch Marketing B2B Search Audit provides B2B search marketers a detailed, strategic search plan with expert recommendations and expected SEO and PPC improvements based on a B2B marketers' budget, market competition and business goals.
SmartSearch Marketing is a full-service search engine marketing agency that helps their clients generate leads, acquire new customers and position brands online through search engine optimization (SEO), pay per click (PPC) advertising, conversion and usability, website analytics, and local search.
The SmartSearch Marketing B2B Search Audit provides feedback, a valuable plan and expected ROI from SmartSearch Marketing's SEO Services Team and Google Certified AdWords experts on how to improve online search results including increasing website traffic, improving lead quality, and increasing conversion rates.
The SmartSearch Marketing B2B Search Audit includes:
Search Marketing Opportunity Assessment
Expert feedback on existing SEO and/or PPC campaigns. The Search Marketing Opportunity Assessment includes a summary of findings, specific suggestions for improvement, a detailed market opportunity, recommended budget, and expected results and profit.
ROI Calculator
An easy-to-use, interactive tool highlighting the bottom-line potential for improving current search marketing ROI. SmartSearch Marketing experts analyze all facets of an existing search marketing program, identify strategies for improvements, and show the expected improvement – in dollars.
Website Usability and Conversion Assessment
What happens after prospects click to a site? This valuable report summarizes how a site performs in usability and conversion. B2B marketers receive specific recommendations for benchmarks and best practices to turn more visitors into customers and sales.
SmartSearch Marketing's uniquely successful approach to search marketing, called Search Lifecycle Management, maximizes customers' results from a prospect's first search all the way through to customer acquisition and sale.
SmartSearch Marketing serves both B2B ad B2C companies by offering comprehensive search solutions that include:

Strategic planning
Search advertising
Search engine optimization
Media buying and creative services
Website usability
Landing page development
Conversion improvements
Marketing analytics
To learn more about SmartSearch Marketing, visit http://www.smartsearchmarketing.com, or request a SmartSearch Marketing B2B Search Audit.