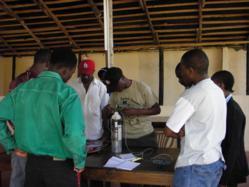 Basalt, Colorado (PRWEB) July 31, 2012
To Return is delighted to announce a collaborative effort with Sentinel Outdoor Institute aimed to improve safety on Mt. Kilimanjaro through increased access to wilderness medical training. Sentinel Outdoor Institute (SOI) offers courses in Basic First Aid, Wilderness First Aid and Wilderness First Responder annually in Arusha, Tanzania. The courses are designed to provide hands on, practical medical training for outdoor professionals and meet international standards.
Through the support of the fundraising efforts of RMI Expeditions on Mt. Rainier, To Return sponsored two students in 2012 for a Wilderness First Responder course taught by SOI and will continue to do so in the months and years to come. The continuing education scholarship program is supported through individual and corporate donations. Scholarships are awarded to local guides and porters on Kilimanjaro based on several criteria including but not limited to financial need. Learn more about sponsoring a deserving student and the SOI and To Return partnership for continuing education in Tanzania.
About To Return
To Return, a 501 C 3 organization, creates a venue for tourists and other concerned individuals to give back to communities that make tourism in Tanzania possible. Specifically, To Return supports porters and guides working on Mt. Kilimanjaro by improving working conditions and increasing access to education. By distributing new and used mountain equipment, To Return easily and yet drastically improves the lives or porters and guides, providing them with the necessary clothing and gear to carry out their professions safely and comfortably. Through scholarships, To Return gives porters and guides, and their families, the opportunity to get an education at a good school in their area.
About Sentinel Outdoor Institute
With a combined experience of over 100 years as outdoor professionals and guides, Sentinel Outdoor Institute has worked closely alongside local professionals on nearly every continent. It was from this unique perspective that the need for continued, high quality education and training around the world became apparent. The desire, need and capacity for such training inspire SOI's enthusiasm and drive for improving safety and education in all outdoor pursuits. It is with a great sense of responsibility and honor that SOI serves outdoor professionals throughout the world in their education and training.