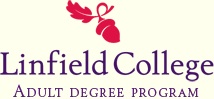 "In a down economy, trying to find a new job can be challenging and discouraging. It's important as a job seeker to differentiate yourself through both education and experience"
McMinnville, Oregon (PRWEB) July 31, 2012
McMinnville, Ore – July 30, 2012 – With the continued stress of a troubled economy, the job market continues to struggle, failing to put many job seekers back to work. Due to this fact, many job seekers have found that this is the ideal time to pursue a higher education, by going back to college and earning degrees and certificates. Linfield College Adult Degree Program announces the availability of six degree programs, and three certificate programs designed to provide options to adults who live a busy, active life, allowing for a balance of family and career while pursuing education. With online degrees and certificates available in Marketing, Accounting, Management and more, Linfield College offers an ideal situation to those seeking further education in career fields that may open up a number of opportunities.
Many job seekers are looking for a way to stand out in a crowded job market. In a down economy Linfield College can give prospective students an advantage by offering online degrees that develop marketable skills. For those with business minded career paths, Linfield College offers an opportunity to complete an online marketing degree. Other business degrees include Linfield College's online management degree and two accounting programs: an online accounting degree and the online Post Baccalaureate Accounting Certificate. As with all the online degree programs offered at Linfield, these courses are considered for active adults looking to advance, or begin, their careers in accounting.
"In a down economy, trying to find a new job can be challenging and discouraging. It's important as a job seeker to differentiate yourself through both education and experience," said Janet Gifford, Adult Degree Program Associate Director, Linfield College. "Linfield College Adult Degree Program offers online degrees that can help you to be competitive in a saturated job market".
There are many colleges today that offer online courses, degrees and certificates and it is important to understand what your needs are before choosing a program that will inevitably change your life. This includes finding a college that has the specific degree that is being pursued, while also providing the flexibility needed for those who are balancing life and work. Linfield College Adult Degree Program offers fully accredited online degree programs, and encourages students to return to school with any number of previously earned credits. Linfield also provides training to gain credits now for your learning acquired on the job and through volunteer service through Credit for Prior Learning.
Adults looking to enhance their career options and make themselves more appealing to potential employers can utilize Linfield College Adult Degree Program's online degrees as a great starting point. Whether looking to change industries, gain a competitive advantage in their job search or help advance in a current career, returning to college today in order to achieve a higher education is a great opportunity. Hiring managers and employers have the luxury of choosing from so many candidates in today's job market that having an edge through higher education could make the difference in the next employment opportunity. Wherever prospective students fall, whether just starting toward a higher education or wanting to continue a previous education, Linfield College has a number of degree and certificate options available.
About Linfield College Adult Degree Program
Chartered in 1858, Linfield College is one of the first colleges in the Pacific Northwest and is regionally accredited by the Northwest Commission on Colleges and Universities. The Division of Continuing Education's Adult Degree Program offers adults the opportunity to earn a bachelor's degree or certificate.
Online programs offered by Linfield College Adult Degree Program include an online management degree, accounting degree, online marketing degree, social sciences degree, arts and humanities degree, RN to BSN degree and international business degree and certificates in accounting, human resource management and marketing.