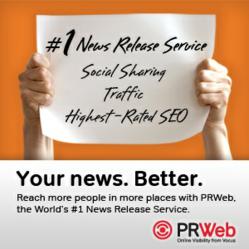 PRWeb has turned the traditional press release designed purely for mass communications and press appeal into a more powerful form of search, social and content marketing designed for reaching targeted communities online
Beltsville, MD (PRWEB) July 31, 2012
Vocus (NASDAQ: VOCS), a leading provider of cloud marketing software, announced today that its online news release distribution service, PRWeb, has surpassed major competitors for press release distribution by multiple measures. Benchmarks that PRWeb has proven definitively more effective include traffic, Search Engine Optimization (SEO), social and blog shares, and the most overall releases. The trend is indicative of a broad shift for online news consumption and the need for businesses to reach and raise visibility among targeted communities through search marketing and social media.
PRWeb was the first news release distribution system designed for the Web, and quickly earned a reputation among SEO and search marketing professionals for driving website traffic. Vocus acquired PRWeb in 2006 and placed an increased emphasis on technological innovation and distribution partnerships. The service has since grown to attract customers ranging from small-and-mid-sized businesses (SMBs) to traditional PR professionals at global organizations who want to drive traffic, leads and sales with amazing success.
"We started using PRWeb in 2008 and it's been one of the best decisions we've ever made," says Ed Adams, Manager for the Global Public Affairs Department at the DuPont Company. "PRWeb was quick to embrace new social media features and its latest distribution system has made a tremendous difference – there is no comparison."
Growth has been fueled by consistent enhancements over the past few years, enabling the service to overtake competitors along the way. Long considered one of the best values in press release distribution, Vocus has continued to improve PRWeb while maintaining editorial requirements on quality and originality of content – and adhering to SEO and social media best practices.
In an internal study that lasted more than a year, Vocus has used independent tools to substantiate its claim that PRWeb delivers the best results. The study can be categorized into four main parts:

Most Traffic. PRWeb has surpassed its three major competitors in total traffic as measured by several different independent tools, including Alexa, Compete, Quantcast and Google Trends. PRWeb has long outpaced all but one competitor in total traffic until January 2012, when PRWeb's Web traffic began to grow beyond that of its nearest competitor. The data has continued to trend in this direction throughout the year.
More Social. Social shares and blogs are another area where PRWeb vastly outperforms the competition. Comparative benchmarking for links to all four distribution sites in Google Blog Search and in Twitter Search consistently demonstrates PRWeb earns more social shares than its competition. For example, in Google Blog Search, returns 1.6 million results, or more the double the next highest competitor, which yields 750,000 results. Likewise, shares on Twitter regularly show that links to PRWeb exceed the next highest competitor by 35%.
Best SEO. PRWeb has long since earned a reputation among SEOs and search marketers for effective traffic. Using SEOmoz's Open Site Explorer, PRWeb demonstrates it has the highest rated domain authority, earning a score of 96.
Most Releases. As more and more customers and prospects see the results produced, they are increasingly spreading the word to additional customers who are also turning to PRWeb for online news release distribution. In a sampling of numbers gathered over a year-long period using LexisNexis, all three major competitors experienced flat or slight decreases in the number of releases distributed. PRWeb's volume, on the other hand, has increased by nearly double. The service is the world's #1 news release distribution service.
"PRWeb's ascension to the world's number one news release service is a reflection of its performance and ability to help businesses reach and influence buyers across search and social networks," said Vocus Senior Vice President of Products, You Mon Tsang. "PRWeb has turned the traditional press release designed purely for mass communications and press appeal into a more powerful form of search, social and content marketing designed for reaching targeted communities online."
Vocus' PRWeb network makes online news releases available to more than 80 million unique visitors by continuously building an ever-expansive network of partners. In addition, more than 300,000 opt-in direct subscribers, including reporters and bloggers, subscribe to news distribution to review breaking news topics in categories of their choosing.
The service has also focused on innovations for search and for social media. Most recently, the service added new social sharing features that help businesses to showcase their Twitter, Facebook and LinkedIn profiles in news releases so they can build their networks. An expansion of the TweetIt feature lets businesses amplify their news by publishing it to Facebook and LinkedIn.
About Vocus
Vocus is a leading provider of cloud marketing software that helps businesses reach and influence buyers across social networks, online and through media. Vocus provides an integrated suite that combines social marketing, search marketing, email marketing and publicity into a comprehensive solution to help businesses attract, engage and retain customers. Vocus software is used by more than 120,000 organizations worldwide and is available in seven languages. Vocus is based in Beltsville, MD with offices in North America, Europe and Asia. For further information, please visit http://www.vocus.com or call (800) 345-5572.
Forward-Looking Statement This release contains "forward-looking" statements that are made pursuant to the Safe Harbor provision of the Private Securities Litigation Reform Act of 1995. These statements are predictive in nature, that depend upon or refer to future events or conditions or that include words such as "may," "will," "expects," "projects," "anticipates," "estimates," "believes," "intends," "plans," "should," "seeks," and similar expressions. This press release contains forward-looking statements relating to, among other things, Vocus' expectations and assumptions concerning future financial performance. Forward-looking statements involve known and unknown risks and uncertainties that may cause actual future results to differ materially from those projected or contemplated in the forward-looking statements. Forward-looking statements may be significantly impacted by certain risks and uncertainties described in Vocus' filings with the Securities and Exchange Commission.
The risks and uncertainties referred to above include, but are not limited to, risks associated with possible fluctuations in our operating results and rate of growth, our history of operating losses, risks associated with acquisitions, including our ability to successfully integrate acquired businesses, risks associated with our foreign operations, interruptions or delays in our service or our web hosting, our business model, breach of our security measures, the emerging market in which we operate, our relatively limited operating history, our ability to hire, retain, and motivate our employees and manage our growth, competition, our ability to continue to release and gain customer acceptance of new and improved versions of our service, successful customer deployment and utilization of our services, fluctuations in the number of shares outstanding, foreign currency exchange rates and interest rates.