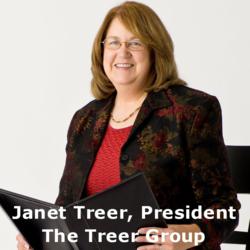 Consider a mid-year plan review now, while there is still time to make a meaningful difference this fiscal year.
Lancaster, PA (PRWEB) July 31, 2012
The Treer Group has developed a special mid-year strategic planning process to help businesses and organizations assess their goal setting and execution progress and make course corrections while there is still time to meet annual goals and objectives.
"This is a critical time for many businesses," says Janet Treer, President of The Treer Group, a coaching, leadership development and management consulting firm based in Lancaster, PA. "We're just over halfway through the year and pressure is building to make sure financial projections and performance objectives are met in the remaining months. This approach can greatly increase their success."
According to Treer, the system has five main components that enable teams to effectively assess their current status, identify where they need to make adjustments and establish a revised action plan. The process steps are:

Visioning creates a statement of the organization's potential. It gives a clear description of what the organization is to become and, in conjunction with the values and mission statement, is the foundation of all further planning.
Strategic thinking and planning helps the tem decide what direction the company should take. It considers every aspect of the company, its assets, resources, challenges and opportunities.
Business planning creates specific goals that will move the organization in the right direction. Different departments or components of the organization will have individual missions, goals and actions for their areas that coalesce into one initiative for the overall company.
Implementation includes activity schedules, accountabilities, tracking and evaluation to make sure the plan is effectively executed.
Review and continuous improvement is the assessment of progress and measurement of results to date, enabling the team to identify necessary changes and continuously improve the process.
"Implementing and diligently maintaining an effective strategic planning process can make a significant positive impact on a company," continues Treer. "With proper design and facilitation, it will take less time than expected, while truly energizing the team. Consider starting now, while there is still time to make a meaningful difference this fiscal year."
Read Janet Treer's article: Strategic Planning Mid-Year Review & Adjustment
Read Janet Treer's blog: Manage2Succeed
About The Treer Group: The Treer Group provides coaching, assessments, tools and guidance to help organizations and individuals identify areas in need of improvement, discover practical solutions and implement long-lasting change that comes from within. Janet Treer, President, founded The Treer Group in 2007.