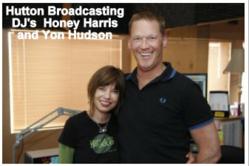 (PRWEB) July 30, 2012
Santa Fe on-air radio talent Honey Harris and Yon Hudson from Hutton Broadcasting are this year's winners of The Santa Fe Reporter's annual reader's poll, 'Best of Santa Fe' for the Local Radio Show Category, 'Best Radio Show. Honey Harris's show, "The Big Show" is on 98.1 Radio Free Santa Fe weekday mornings from 7 to 11 a.m.. Yon Hudson's show is on Blue 102.9 weekday mornings from 7 to 11 a.m.. Santa Fe's and Hutton Broadcasting's very own DJ Dynamite Sol won in a tie for The Santa Fe Reporter's 2012 reader's poll category 'Best DJ'. Hutton Broadcasting is the parent company of SantaFe.com
Honey Harris stepped out of the Deep South in 1992 and landed in Santa Fe where she has been on the airwaves ever since, except for those four times she attempted to live in various parts of California. Realizing that she was on a short leash, Honey finally decided to plant her roots right here in beautiful New Mexico. Honey was one of the original DJs at KBAC when it signed on in 1995 and came back in 2003 to host The Big Show every weekday morning from 7am to 11am. During that gap, Honey was the host of KSFR's Radio Café where she earned her chops for interviewing all kinds of people.
Aside from her work in radio, Honey has written and performed her one-woman show, "The Southern Belle Jar" and has performed in several comedy shows and plays. Not bad for someone who dropped out of The Groundlings Theater in LA. Waking up New Mexicans is one of Honey's favorite things. Her future aspirations include living in the South of France and owning her own vineyard and becoming ridiculously wealthy.
DJ Dynamite Sol, well known around Santa Fe, New Mexico for Sol's Jukebox and The Reggae Party, has been DJ'ing music tracks and putting out jamming tunes for more than ten years in the 'City Different'. Not to downplay his DJ skills, but DJ Dynamite Sol is also very well liked and an admired on-air radio talent on Hutton Broadcasting's Blu 102.9 as well.
About SantaFe.com:
SantaFe.com provides locals and visitors to Santa Fe alike the most current interactive platform for events, music, arts, business, dining and lifestyle. SantaFe.com is a division of Hutton Broadcasting, located at 2502 C. Camino Entrada, Santa Fe, NM 87507
Contact Information:
Scott Hutton
SantaFe.com / Hutton Broadcasting
http://www.santafe.com
(505) 471-1067 (Media inquiries only, please)