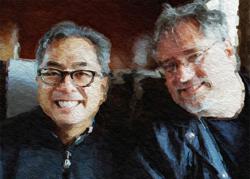 The paint processing in Glaze is nothing short of incredible. - Charlie Sorrel, Cult of Mac
Soda Springs, CA (PRWEB) July 31, 2012
"The paint processing in Glaze is nothing short of incredible."

Charlie Sorrel, Cult of Mac
"...[Glaze] is one of the hottest apps to launch this month ... it's elegance, quality and speed of photo transformation that it really captures the attention..."

Victor H., PhoneArena.com
"...[Glaze] creates the best painterly effects that I have seen from any app currently available for the iPad or iPhone..."

Glyn Evans, iPhoneography
The 11ers founders, Gilles Dezeustre & Dan Wexler's long experience in high-end feature film R&D for DreamWorks Animation translated directly to success in the iTunes market. "I'm blown away by the response Glaze is receiving from reviewers and iPhoneographers! I'm so happy our passion for visually stunning images found such a large audience in mobile," says Wexler. Dezeustre added, "sounds like an Android port is in our future, along with dramatic improvements to the quality of the painted images and support for ultra-high-resolution output."
Glaze's "Intelligent Brush Stroke" technology will be presented in the SIGGRAPH 2012 Image Playground talk session on Thursday, August 9, from 3:45 pm – 5:15 pm. The 11ers plan to deliver a suite of mobile applications over the coming year leveraging their unique film and game experience.
About The 11ers
The 11ers are an independent mobile app development team based in Donner Summit, California. Founders Daniel Wexler and Gilles Dezeustre are 3D feature animation software veterans with over 17 years of combined experience writing rendering and animation software for PDI and Dreamworks Animation. Their film credits include multiple Shreks and Madagascars (and one Antz). Afterwards, Dan spent 8 years at NVIDIA working on the first GPU-based film renderer, Gelato and future GPU architectures, while Gilles worked at OnLive and wrote real time 3D for the cloud.
They reunited in late 2011 and, in the depth of American Gold Country, created The 11ers. Armed with their deep experience in high end graphic software, they embarked on an epic journey through the frontier of mobile app development, toward the ultimate goal of bringing leading-edge graphical algorithms to the mobile market.
Website: http://the11ers.com/glaze
YouTube: http://www.youtube.com/watch?v=Odc9XsABdYE
App Store: http://itunes.apple.com/us/app/glaze/id521573656?mt=8