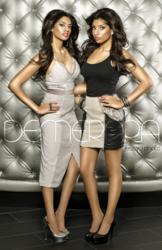 Dallas, TX (PRWEB) July 31, 2012
Cassie and Andrea Ganesh, Texas born and raised military brats, were destined to be entrepreneurs. Sharing the mutual desire of owning their own business, dressing to express, and the need to shop frequently; the sisters incorporated their first business, DEMERARA, a men's and women's boutique located in Dallas, Texas.
"The girls," as many refer to them, were raised in Dallas/Fort Worth. Cassie and Andrea both graduated with their MBAs in May of 2010 at the ages of 21 and 22. While at home applying for doctoral programs, the sisters conjured up DEMERARA, which opened its doors on September 1, 2011.
DEMERARA made its grand debut in the heart of Dallas, and quickly became "the it store" for contemporary fashion seekers. This men's and women's boutique, centered in Dallas' West Village, offers up a variety of designer apparel and accessories for the trendy Uptowner. The girls have loaded this exemplary location with an array of modern collections. Decked out in crystal chandeliers and dark woods, the store makes a clear statement of individuality that sets it in its own genre of retail. Variety is kept large and quantities are set low, ensuring customers with pieces that are considerably exclusive to Dallas, and even in some cases Texas. Expect to find a majority of on-trend, up and coming labels not yet found in "mainstream" stores. As an added bonus, customers are encouraged to take advantage of complimentary in-house tailoring on all apparel purchases.
With its one year anniversary approaching in the month ahead, DEMERARA plans to celebrate with a runway event that unveils the company's private apparel line. The sisters are currently designing and undergoing the processes of manufacturing their own U.S. made, ready-to-wear women's label, "DEMERARA by Cassie and Andrea Ganesh". The line is scheduled to launch with Spring/Summer 2013, local preview to be held in Dallas, TX.