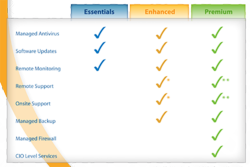 I know that we can significantly reduce our client's IT expenses and help businesses operate more smoothly when they use one of our IntelligentOFFICE packages.
Atlanta, GA (PRWEB) July 31, 2012
IntelligIS, an Atlanta IT company, now offers a complete technology package that will make it possible for businesses to streamline their entire IT department. The IntelligentOFFICE package is a turnkey solution that supplies all of a businesses' hardware and software technology needs. It includes current software applications and updates, network security, remote monitoring, CIO Level Services and much more. IntelligIS also offers many different solutions for business technology such as managed IT services, unified communications or VoIP, and cloud computing. With IntelligentOFFICE , IntelligIS is able a offer a complete suite of IT services to businesses from within one company.
IntelligentOFFICE comes in three different level packages to choose from. The Essentials package includes: Managed Anti-Virus, Software Updates, and Remote Monitoring. The Enhanced package includes all of the features of the Essentials package plus: Remote Support, Onsite Support, and Managed Back-Up. The Premium package includes all of the services listed above as well as Managed Firewall and CIO Level services. IntelligIS offers these packages to businesses that need to unify and/or downsize their current IT department. This also eliminates the need to outsource to multiple companies or to expand their current IT department. IntelligIS makes all of these packages available for one low cost per package.
The ability to purchase IT products and services from one source helps businesses to streamline their IT departments and reduce the need to outsource IT services from multiple companies. IntelligIS products and services can create an efficient work environment by providing a stop shop for any IT need. With services such as remote monitoring and network security, IntelligIS is able to identify problems and resolve them before they become a major problem. Services such as hardware and software updates ensure that work is completed faster, and there is no down time due to compatibility issues because of multiple operating systems or out of date software. With IntelligentOFFICE, IntelligIS is able to provide remote and onsite support for software or hardware issues. They also provide CIO level services that can assist a company with decisions about networks, security, upgrades, cost evaluations and much more.
Marcus Wilson, President of IntelligIS commented on his company's new IntelligentOFFICE products and services. "We are really excited about our new IntelligentOFFICE offerings. These products and services can really relieve the frustration and work involved in keeping a business' software, hardware and network current and operating properly. I know that we can significantly reduce our client's IT expenses and help businesses operate more smoothly when they use one of our IntelligentOFFICE packages."
IntelligentOFFICE is a complete business technology solution provided by IntelligIS, and Atlanta IT Company. IntelligIS is a proud partner of Cisco, Microsoft, Citrix, and VMware. They are located at 4720 Peachtree Industrial Blvd, Suite 5201, Norcross, GA 30071. IntelligIS provides services such as Unified Communications (VoIP), managed IT services, cloud computing, and IntelligentOFFICE. To find out more about IntelligIS, they can be reached by phone at (678-680-5860) or by email. Website and Web Marketing Services have been provided by Atlanta SEO Company, Interactive Search Marketing.