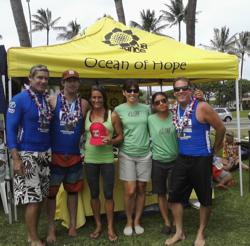 The Ocean of Hope campaign has some amazing athletes, and the paddling community has recognized their efforts. That's been a milestone.
Honolulu, Hawaii (PRWEB) July 31, 2012
Ocean of Hope volunteers will do almost anything to get the word out about a rare cancer of muscle and bone -- even "selling" the Sarcoma Alliance on Craigslist, a volunteer said today.
"Each year, the Sarcoma Alliance holds an Ocean of Hope (O2H) campaign in California that has raised over $600,000 in support for sarcoma patients and their families," read the ad. "This year, the Sarcoma Alliance & the Ocean of Hope will be coming to Oahu to host a tent at this year's Molokai 2 Oahu Paddleboard World Championships race. Come join us -- be a part of this volunteer-based event and support the worldwide paddleboarders at the finish line!!!"
Danmerle Capati, O2H coordinator for the Islands, listed Sunday's event on the Aloha United Way website and placed the Craigslist ad.
"I thought it was a perfect (free) way to communicate that a Sarcoma Alliance community can be built locally in Hawaii," she said. "The Ocean of Hope campaign has some amazing athletes, and the paddling community has recognized their efforts. That's been a milestone."
A new O2H member this year is Steve Shlens, a lawyer from Santa Barbara, Calif. "Managed to get first in my division with paddle partner Dan Van Dyke of San Diego. We had a lot of fun with no expectations, so the award was a little bonus. This was my second Molokai race but the first time with O2H. I like the group, the cause, and feel proud to hopefully shine a bit of light on it."
Growing up in South Bay, he said, "I paddled as a teen, got out of it, and began paddling again at 38." He has had a busy and successful racing season, which will culminate Aug. 26 at the Catalina Classic. As he wrote on his blog:
"The Classic, as it's called, is the grand-daddy of paddleboard races around the world. The original long distance paddling endurance race."
O2H members Steve Shikiya of Palos Verdes Estates and Joel Pepper of Redondo Beach also competed Sunday in Hawaii. O2H co-captain Aimee Spector of Redondo Beach will join them for the Classic.
"Yes, for the first time ever, me, an outrigger paddler, will be doing the Classic to raise awareness and inspire others to support our team's mission," Spector said.
The Ocean of Hope, the Alliance's largest fundraiser, consists of a series of ocean races. It started at the Catalina Classic Paddleboard Marathon in Manhattan Beach, Calif., in 1999 -- the same year that Mercedes "Mercy" Capati of Oahu's Ewa Beach was diagnosed with leiomyosarcoma, one of the many subtypes of sarcoma, said daughter Danmerle.
"She was such a fighter," Danmerle said. "I have always been proud of her."
Her mother's kindness was detailed in the story "Mercy" in "Chicken Soup for the Military Wife's Soul." Like others with metastatic disease, she had tough times, "but she had some really good times as well," Danmerle recalled. She began volunteering for O2H in 2009, two years after her mother died.
"I'm all about patient advocacy and empowering people who need help the most," said the social worker and musician who now lives on the North Shore. She called the Alliance's Assistance Fund awesome for helping reimburse expenses for patients who seek a second opinion from an expert. She also praised the Peer-to-Peer Network, explaining that emotional support "is a huge part of treatment."
Sarcoma is a cancer of connective tissue, including bone, muscle, cartilage, fat cells and nerve tissue. It can arise in any part of the body at any age, from newborn on up. The nonprofit Alliance is based in Mill Valley, Calif. For more information, go to http://sarcomaalliance.org.