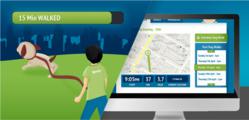 Our goal is to become the go-to dog walking service in Manhattan. We only hire the best walkers and we've integrated the web to provide the best, most customized dog walking support in New York
New York, NY (PRWEB) July 31, 2012
Swifto Dog Walking, based in Manhattan, has developed an app and website that bring ease and accountability to this once esoteric service. Swifto walkers download an application which communicates with the GPS in a walker's smartphone. Owners don't have to download anything, they receive a log-in and can view walks in real time, manage their payment information, schedule walks, and create a custom profile about their dog.
Swifto has been getting great reviews from their clients on Yelp.com and buzz in the tech world via publications such as FastCompany and The New York Post. "Our goal is to become the go-to dog walking service in Manhattan. We only hire the best walkers and we've integrated the web to provide the best, most customized dog walking support in New York" says the company's hip CEO, Penina First.
Swifto hires only passionate, educated walkers who have passed a phone interview, an in-person interview, and impressed the Swifto staff at a training session. Marketing and customer service reps are on staff and dedicated to even the most particular dog owners.
Learn more about Swifto's services at http://swifto.com and log in to Facebook or Meetup to check out the strides they're making using social media.