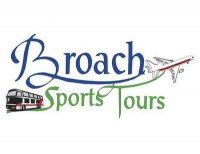 Charlotte, N.C. (PRWEB) July 31, 2012
Stevette Mathis was such a huge baseball fan that she wanted her ashes to be scattered around all 30 Major League Baseball stadiums after she died.
Throughout the course of the summer, Broach Sports Tours hosts and fans have been able to make that happen, scattering small amounts of her ashes during their various trips to big-league ballparks this summer.
Mathis, a retired teacher from Gastonia, N.C., and a long-time Broach Sports Tours tour guide, died after a brief illness in January.
"We have been honoring her wishes and the wishes of her family by scattering small amounts of her ashes in a special place at each stadium, in Cooperstown, and at the Field of Dreams," Broach Sports Tours president Tom Broach said.
Broach Sports Tours has also dedicated the entire season to Mathis' memory, and has named one of its Broach Coach motorcoaches "the Stevette bus."
Mathis was named the Radio Shack "Extreme Baseball Fan" of 2003. She joined Broach Sports Tours as a tour guide after originally going on one of Broach Sports Tours' baseball trips merely as a fan. It quickly became apparent to Broach that she had the passion and personality to be a great hostess and a fabulous representative of the company.
"She was one of a kind and she was a friend over everything else," said office manager Melanie Hicks. "We all miss her terribly."
"Nobody was more passionate about baseball and having a great time at the ballpark than Stevette," Broach said. "She loved baseball, she loved people, and she had an enthusiasm that rubbed off on every person on the tour. We miss her dearly."
Broach Sports Tours, based in Charlotte, N.C. has been an industry leader in sports and group travel packages since 1992.
Broach has offered 27 various Major League Baseball packages this summer, visiting all 30 Major League ballparks. A variety of baseball trips still remain throughout August as the pennant races heat up.
"For an avid baseball fan, our tours offer the best vacation you could ever experience," Broach said. "There is nothing like joining 40 other fans from all around the country traveling to big league stadiums and talking baseball. Our new motorcoaches even include DirecTV so we can watch Baseball Tonight riding to our hotel after the game."
Broach Sports Tours also specializes in tennis travel packages, golf travel packages and can customize group travel for any size group. Broach recently announced its lineup of college football and NFL trips, including Carolina Panthers' road games and the Super Bowl.
For more information, contact Melanie Hicks at 800-849-6345 or visit http://www.broachsportstours.com.