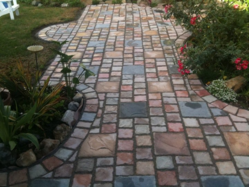 The 2011 Customer Project Contest $1000 Grand Prize Winner!
(PRWEB) July 31, 2012
Olde World Stone & Tile Molds, Inc., and their on-line retail eStore, TheMoldStore.com, are giving away 50 Free Lunches ($25 each) and the chance to win a $500 shopping spree just for voting in their new 2012 Customer Project Contest. And all of TheMoldStore.com customers and contestants entering their DIY projects can win the Grand Prize of $1000 cash as well as shopping sprees of $100 or $500 by earning the most votes from the public.
The new contest website will showcase the best "Do-It-Yourself" projects done by everyone from housewives who have made patio pavers for their yard to homeowners who transformed the exterior of their homes with stone veneer they made using TheMoldStore.com molds. Voting winners are notified by email each month as well as by being posted on TheMoldStore.com websites. Prizes are claimed by responding to the notification email.
The MoldStore.com customers and contestants entering their DIY projects can win the Grand Prize of $1000 cash as well as shopping sprees of $100 or $500 by earning the most votes from the public. For the contest, The Mold Store assigns each Do-It-Yourself project entry a page on the company's contest website. Those projects are then voted on by the public. The voting is ongoing through April 30, 2013, giving voters a total of 50 chances to win a $25.00 Free Lunch at a restaurant of their choice. That's five winners each month.
The 2011 Customer Project Contest website currently shows all of last year's projects that were submitted, as well as those that won. The Official Contest Rules and the Prize breakdown are available on the 2011 Contest Website as well as on the new Contest website. The 2011 Contest website illustrates what can be accomplished by homeowners who had never worked with either concrete or molds before. And it's interesting that nearly half of the entries and winners were contestants not normally associated with using concrete building products-- women.
It is a fact that home improvement projects can add thousands in value to a home. But, often the initial price of materials makes such projects cost prohibitive. The average homeowner does not normally have the expertise needed to complete projects like making their own tiles and pavers, or making and adding stone veneer facing to their fireplace or home. But, with TheMoldStore.com products, and their dedicated instructions and training website, customers learn to cast manufactured stone, brick veneer, pavers, concrete tile and stepping stones for pennies each—thus saving up to ninety-percent off of typical retail prices. By using concrete stone molds, almost anyone can complete projects that had been put off for years because of budget considerations. These projects can now be completed at significant cost savings by do-it-yourselfers.
According to Olde World Stone's Founder and President, John McKenzie Panagos, "The Mold Store even provides Complete Do-it-Yourself Project Kits that allow anyone to complete stone, tile, brick, and paver remodeling projects themselves." He then added, "The easy-to-follow instructions and the included supplies in the kits allow virtually any homeowner to tackle projects that end up looking like they were completed by professionals. Through the use of custom stone molds to make concrete building products, materials costs can be cut by as much as 90% off of typical retail prices. This allows homeowners to add thousands to the value of their homes for pennies on the dollar by making the stone themselves."
A visit to the Olde World Stone Product Catalogue website for more information will be rewarded with answers to most questions that may come up.