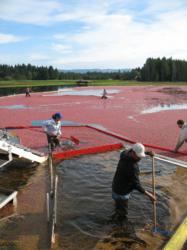 Fall is magical here with red berries floating on the bogs and wild mushrooms popping up all over
Long Beach Peninsula, WA (PRWEB) July 31, 2012
Lewis & Clark, wild mushrooms, cranberry harvest, and chamber music fuel fall events on Southwest Washington's Long Beach Peninsula. From October through November, visitors to the Long Beach Peninsula can choose from a variety of seasonal festivals at this welcoming coastal destination.
"Fall is magical here with red berries floating on the bogs and wild mushrooms popping up all over," commented Andi Day, Executive Director, Long Beach Peninsula Visitors Bureau. "The season really inspires our chefs and brings many visitors to our tasty celebrations and cultural events."
From Oct. 12 through 14, the Water Music Festival brings chamber music to the lower Columbia River region with series of Peninsula-wide concerts. The Long Beach Peninsula's watery setting combined with small venues (including the 1892 Oysterville church) makes Water Music one of the most enjoyed events of the year.
Other fall events point to the Peninsula's importance in U.S. history, namely as the Western terminus of the Lewis & Clark Expedition in 1805, as well as a military outpost and guardian of the mouth of the Columbia River. On Nov. 9 and 10, the Columbia Pacific Heritage Museum presents 'Ocian in View'. This history lover's cultural event, which originated during the Lewis & Clark Bicentennial Commemoration, focuses on the region's nationally significant local history.
Among the series of educational interpretive activities offered at Cape Disappointment State Park, Graveyard of the Pacific Events will take place from on Oct. 27 and 28. The series explores the many stories surrounding the treacherous waters where the Columbia River empties into the Pacific Ocean, waters that have claimed around nearly 2,000 vessels and over 700 lives.
Local foods take center stage in the fall when the Long Beach Peninsula's cultivated harvests are highlighted during The Cranberrian Fair, Oct. 13 and 14. This longtime celebration of the region's centuries old cranberry farms includes visits to cranberry bogs, displays, sampling, and more.
Showcasing wild harvests of savory, locally foraged mushrooms, the Wild Mushroom Celebration takes place from Oct. 1 through Nov. 15. During the height of the mushroom season, chefs at restaurants and lodging share their talent and creativity in preparing wild mushrooms via cooking classes, demonstrations, themed dinners, and more. Mushroom pairings with wine and sometimes beer are also shared.
The Long Beach Peninsula is a longtime favorite coastal destination in the southwestern-most corner of Washington State. The Peninsula boasts a mix of sensational restaurants, local seafood, ocean view lodging, unique museums and attractions, lighthouses, fine art galleries, meandering trails, birding spots, and, above all, a long, wide, windswept beach. Accented by a huge offering of festivals and events, the Long Beach Peninsula continues to be one of the Northwest's most enjoyable and refreshing getaway destinations. For event and visitor information, please call the Long Beach Peninsula Visitors Bureau toll free at 1-800-451-2542 or access http://www.funbeach.com.