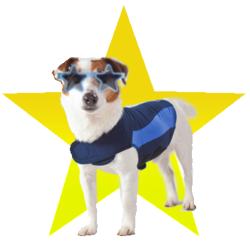 Durham, NC (PRWEB) July 31, 2012
Does your dog have what it takes to be the next big, national TV commercial star? If you think so- then Thundershirt wants to hear from you!
Phil Blizzard, founder of Thundershirt, announced today the opening of a nationwide casting call for the company's next big star.
Entering is as easy as 1, 2, 3!

Step 1: Complete a short registration form at http://www.thundershirt.com/contest so we can contact you if your dog wins.
Step 2: Upload your dog's photo and a brief Thundershirt testimonial.
Step 3: Preview your entry and enter it into the contest.
The entry with the most votes by Friday, August 31, 2012 at 5:00pm EST will be announced the winner. Increase your chances of winning by sharing your submission on Facebook, Twitter, Pinterest and more!
Prizes
One grand prize winner will receive an all-expenses paid trip to Tampa, FL for a professional TV commercial shoot that will air nationwide. (And, if a trip with your dog to Tampa, FL doesn't seem possible- we'll come to you! Don't let the travel keep you from entering the contest!)
One Finalist will be awarded the "funniest testimonial" and receive a Thundershirt Pet Pack filled with goodies for your dog to enjoy (a $200 value).
One Finalist will also be awarded the "most touching testimonial" and will receive a Thundershirt Pet Pack filled with goodies for your dog to enjoy (a $200 value).
Dates
Submit entries (one per household) and/or view entries: August 1-31, 2012
Vote for your favorite finalists: August 1-31, 2012
The winner will be announced on September 1, 2012
Additional Things to Know
Only one photo/testimonial entry per household.
Only one vote per person per day.
### -
About Thundershirt
Founded in 2009 in Durham, N.C., Thundershirt's mission is to bring relief to the millions of dogs, cats and their families struggling to cope with anxieties. The Thundershirt is designed to apply a constant, gentle pressure to a dog or cat's torso creating a dramatic calming effect for most users. Thundershirt continues to investigate dog and cat anxiety and fear issues with scientific-based studies and surveys from recognized veterinarians and pet owners. Thundershirt has already helped hundreds of thousands of dogs across the country and around the world.
The company also donates thousands of Thundershirts and funding to rescue groups and shelters to help these organizations manage their anxiety cases and find permanent homes.Thundershirts are sold online at http://www.thundershirt.com and by retail stores, veterinarians, trainers and kennels across the country.