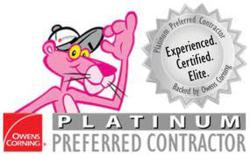 Customer service has been a focus of Reroof for years... with local visibility we can reach more customers, quicker
Edmond, OK (PRWEB) July 31, 2012
Mark Lenzer Vice President, Reroof America today released this statement:
" In order to better serve our customers and to provide enhanced customer services, Reroof america "America's Roofe r" has enhanced its local office network by upgrading their on-line presence under google local listings. We have added videos produced to highlight the local office and each mangers roofing expertise in sloped and flat roofing.
We have installed a local "customer 24-hour " hot lines to provide answers and customer support even in times of disaster.
Recent storms and tornadoes have raised questions from our local customers that require immediate response. Reroof America with more than 35 years of roofing experience and the installation of over 60,000 roof's nationwide, will provide answers to concerned consumers real time through our local information network supported by our national office in Edmond Oklahoma.
The local 24 hour roofing hotlines service the following locations;
Oklahoma City Oklahoma
Denver Colorado
Phoenix Arizona
Tulsa Oklahoma
New Orleans Louisiana
St. Louis Missouri
Kansas City Missouri
Chicago Illinois
Reroof America is licensed and bonded in the following states: TX, TN, WI, OH, CA, NV, FL, MS, GA and VA
About Reroof America
Reroof America Management Corporation is owned and managed by J.R. Emrich, President. The company's began in the roofing industry in 1979. J.R. Emrich and his companies operate debt free and utilize multiple suppliers in several states. Bonding capability is up to 4 million dollars. The Dun and Bradstreet credit rating for the company is 1R2 and the D&B # is 83-696-7372.
Reroof America is based out of Edmond, OK, having completed over 60,000 roofs in over 15 states over the past 33 years.
Reroof America's primary business is residential roof replacement; however several locations have commercial divisions, window divisions and offer other residential construction solutions. Reroof America is fully licensed and insured in all states within which it operates, and is a member of NRCA, BBB and multiple local and regional associations.
For Information About Reroof America Contractors, Reroof America Corporation, Reroof America Management, or Metro Roofing, contact Mark Lenzer at: 800-755-3530 or mlenzer(at)reroofamerica(dot com) or follow reroofamerica on facebook or Google+.