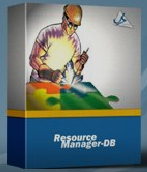 "The flexibility of the system to meet our unique needs is excellent." Jeffery Winter, Continous Improvement Manager, Swanson Group Mills
South Lyon, MI (PRWEB) July 31, 2012
Resource Manager-DB 2012, features a unique design that quickly and easily adapts to existing operations. The latest release adds advanced production planning and scheduling capabilities normally reserved for offerings costing 10 times as much and taking 5 times as long to implement. Resource Manager-DB delivers the benefits of Manufacturing Planning, Scheduling, and Tracking Software without the pain. Resource Manager-DB is the first tool that can be utilized by small companies with no formal systems in place, as well as by larger companies with installed ERP Systems. Resource Manager-DB enables most any operation to immediately improve their planning, scheduling, and tracking capabilities to become more efficient and more competitive.
New Advanced Planning and Scheduling Features
Resource Manager-DB features: alternate routings, alternate workcenters, automatic optimization, multiple constraints, skill level scheduling, and detailed workcenter calendars that can be adjusted at any time. Now, inevitable labor fluctuations, workcenter downtime, and unexpected material shortages can be immediately accounted for, allowing the user to regenerate a schedule with new priorities - on demand. Real-time Resource Calendar reports include: Load Utilization, Backlogs, Bottlenecks, Capacity Pockets, and more. In addition, a special Dynamic Reconfiguration allows the user to easily and quickly reconfigure scheduled production, on-the-fly, to reflect reality.
MRP and Inventory Included
Material Requirements Planning (MRP) and Inventory Management and Control, with additional features for Lean Manufacturing enable Resource Manager-DB to be used by both discrete, process, and mix mode manufacturing enterprises.
Plywood Mill Thrives in Challenging Economy
Efficient Production Scheduling with Resource Manager-DB
The Swanson Group meets the housing and construction needs with dimensional lumber, studs and plywood. This manufacturing division has five mill locations, all located in Oregon, which produces over a billion feet of wood products a year, at full capacity.
Jeffery K. Winter, is the Corporate Continuous Improvement Manager for Swanson Group, Inc. According to Mr. Winter, "We are committed to operational excellence and are continuously looking to maximize performance at every step of the production process. Efficient production scheduling, including capacity requirements planning is critical for our goals." Jeff continues, "We have been using the Resource Manager scheduling software, increasingly, for the last couple of years. I say increasingly because there was a lot of reluctance to using it at first. The reluctance came because there was the idea that even though plywood production is 'Old Technology' manufacturing, the intricacies of the different species and manners to deconstruct a log into various sizes of veneer and the reassemble it into plywood was too difficult to schedule. This has been proven incorrect by the software and the effort by User Solutions in implementing for our needs. Some of the benefits we have realized include:
Reducing Labor in our finish end department by knowing when each machine center was going to be needed.
Improved Inventory Management by enforcing a process of netting out what was in inventory vs. what incrementally was needed to meet sales demand.
Improved Customer Service through an increase of on-time shipments as we now know what will be the bottleneck in the mill in any given week and work around it.
Improved Inventory Control though highlighting issues of raw material supplies that had been hidden in the past.
Maximized Machine Uptime by allowing our maintenance staff to plan their work around machine usage and not during times the machines are needed.
Mr. Winter reports, "The scheduling software from User Solutions has become a key component for Swanson Group continuing to be a low cost, efficiently growing manufacturer. As we respond to market demand, and reconfigure our mills to be more efficient, we are glad to have a software system and company who can adapt along with us. Just recently, we were able to completely reconfigure Resource Manager-DB to accommodate new scheduling rules in one of our mills. The flexibility of the system to meet our unique needs is excellent."
Just Do It Your Way
New 'on the fly' Configuration with instant integration with existing ERP Systems allows customers to solve their planning and scheduling challenges with ease and speed, instead of forcing them to adapt to a rigid, complicated, system. With Resource Manager-DB 2012, manufacturers are able to improve their competitive edge and get instant solutions to their most challenging resource management problems. Customer report recognizing three unique benefits:
1. Less time: most solve their planning and scheduling challenges in less than one month.
2. Less cost: training and implementation included with every system
3. Less trouble: software that adapts to the customer's current systems and procedures. This eliminates the pain in learning a 'new' system.
Affordable and Compatible
A single user version is $5,000-$9,000. A multi-user version is twice the single user version price. Resource Manager-DB runs with Windows and Excel for reports. For more information, or for free trial, contact: http://www.UserSolutions.com or call toll free (800) 321-8737.