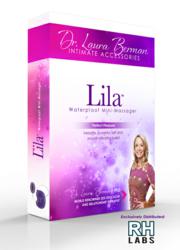 The demand for sexual wellness products is growing exponentially
Atlanta, Georgia (PRWEB) July 31, 2012
Beginning this fall, RH Laboratories will bring three models from Dr. Berman's line of personal massagers to retailers in the food, drug, and mass categories.
The three products coming to market are Maya, Lila, and Athena. Each was designed and developed by Dr. Berman and her female team at CEN, with special attention paid to a woman's wants and needs.
Dr. Berman's products differ greatly from the products already available in the marketplace. It's the only line of personal massagers endorsed by a world-renowned sex and relationship expert. Further, it's the only one designed, developed, and marketed by a female team.
"The demand for sexual wellness products is growing exponentially," says RH Laboratories President, Joshua Maurice. "Now these intimate items will be available in the stores where mainstream America is already shopping."
About RH Laboratories
RH Laboratories manufactures RockHard Weekend, an all-natural male sexual performance enhancer as well as Pandora, an all-natural sexual enhancer for women. RH Laboratories is constantly using innovative techniques to promote their products not only as supplements but also as a lifestyle. In addition to the products RH Labs manufactures, they are the exclusive distributor of Forgiven, the world's first alcohol metabolizer. Beginning fall 2012, RH Labs will also be the exclusive distributor of Dr. Laura Berman's Intimate Accessories for the Food, Drug, and Mass channels.