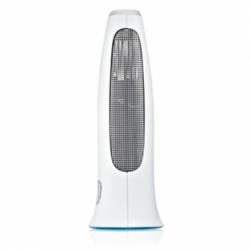 Tria Blue Light clears blemishes and acne breakout in the convenience of your own home!
Los Angeles, CA (PRWEB) July 30, 2012
Tria Blue Light eliminates acne-causing bacteria deep within the skin, leaving your complexion clear, radiant and healthy looking. Unlike prescription medications or products made with bleaching agents like benzoyl peroxide, our Tria Blue Light is gentle enough for daily use without long-term side effects or skin irritation. It is FDA Cleared! This means that the Tria Skin Perfecting Blue Light is, safe and effective, clinically proven and supported by sufficient valid scientific evidence and substantially the same as professional blue light devices
Use the most advanced blue light technology available to clear breakouts quickly and effectively. In multiple clinical studies using the TRIA Blue Light, 70% of affected areas cleared in just 2 weeks, 94% of participants noted fewer breakouts after 2 weeks and 93% of participants noticed a smoother complexion in 4 weeks
Tria Beauty manufacture both the Tria Hair Removal Laser and Tria Skin Perfecting Blue Light. The Tria Blue Light is convenient and easy to use. In three easy steps, you simply prepare, customize, and apply the laser.
This video Tria Blue Light Review by celebrity dermatologist Dr Michael Lin discusses this at home laser hair removal system.
"Tria Blue Light clears blemishes and acne breakout in the convenience of your own home!"
Tria Blue Light retails for $245 is eligible for FREE SHIPPING and 45 Day Returns on all purchases.
Also, in the month of July you can win the Tria as its part of Dr Lin Direct monthly beauty giveaway. Details of the Tria Giveaway available at Dr Lin Direct.
About Dr Lin Direct
Celebrity dermatologist Dr. Michael Lin personally video reviews and approves all premiere skin care brands carried on Dr Lin Direct. Skincare Brands include: Tria, Clarisonic, BioCorneum, Matis Paris, Dermalogica, Murad, Obagi, PCA Skin, Fenix Skincare, Yu-Be Skincare, Dr J Organics, ACT Skincare, Linage, Linage LinQ, Vivite, MD Forte, NeoStrata, Nia 24, Aveene, MD Forte, Zeno, Ahava, ANSR, Atopalm, Cellex-C, Cellulite RX, Cosmedix, DDF, DermaSilk, Dermelect, Dr Dennis Gross, DS Laboratories, Emjoi, Equavie, Fake Bake, Feeze 24/7, Go Smile, IS Clinical, La Roche-Posay, Light Stim, Neil George, Neocutis, Pur-lisse, RevitaLash, Sampar, SkinCeuticals, SkinMedica, Supersmile, Talika, Tanda, Whish, Zirh, and Cotz.
Free shipping and 45 day money back guarantee allows Dr Lin Direct to provide all customers with the opportunity of achieving their skin care goals.
Dr Michael Lin has 7 successful practices in Southern California interacting with his patients on a daily basis. The practices are in Sherman Oaks, Valencia, Westlake Village, Beverly Hills, Ventura, Oxnard and City of Industry, California.