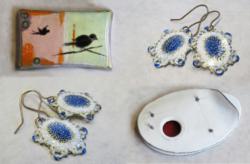 Things handcrafted challenge our preconceived ideas, stimulate our senses and enrich our lives
Boston, MA (PRWEB) July 31, 2012
Jenne Rayburn, founder of Jenne Rayburn Handcrafted Jewelry and Wearable Art, from Malden, Massachusetts, had the opportunity to travel to Deer Isle, Maine, this summer to participate in a two-week intensive workshop on enameling with renowned artist Jamie Bennett. With the goal of researching ideas and acquiring skills in support of her current jewelry design work, Rayburn experimented with painting on enameled copper using over-glaze china paints to create wearable works of art. "It was incredibly exciting to work with one of the most notable enamellists in the world," said Rayburn. "Jamie's perspective on the sensual nature of jewelry, and the potential of enamel as an art form beyond traditional techniques pushed me to question and innovate my work."
Jamie Bennett's work is known for its meticulous use of color and his interpretations of nature that combine historical reference and contemporary explorations. Bennett is a Professor of Art in the Metal Program at the State University at New Paltz. Bennett's work is the subject of a monograph, Edge of the Sublime, The Enamels of Jamie Bennett, published by Hudson Bay Press, which accompanies a retrospective exhibition of his work that traveled to six museums nationally through 2010.
Each summer at craft schools around the country, diverse communities of beginner to advanced artists gather in non-competitive environments to develop craft skills and nurture the creative spirit. Taught by national and international practicing studio artists and university faculty, craft schools like Haystack enable artists to question their preconceived ideas, reassess their work, and challenge themselves to experiment in unfamiliar artistic territory. Haystack Mountain School of Crafts is an international craft school located on the Atlantic Ocean in Deer Isle, Maine. Hugging the rugged coastline, the campus was designed by Edward Larrabee Barnes, and added to the National Historic Register in February 2006. The school offers intensive studio-based workshops in a variety of media including clay, glass, metals, paper, blacksmithing, weaving, and woodworking. "Haystack is an inspirational and life changing place", said Rayburn. "Working in the studio all day proved to be exhausting but rewarding; a luxury I never have at home. It enabled me to hone my process and see new connections between familiar ideas and techniques - my work has grown tremendously."
Working together in an intense atmosphere of a total-immersion workshop, the experience provides an environment that supports a serious exploration of craft ideas and technical ingenuity, encouraging students, faculty and visiting artists to test their boundaries and to exchange knowledge generously. "It is an environment where people enthusiastically share their knowledge and experience", notes Rayburn "The universally passionate support of craft traditions, and the exuberant exchange of skills and ideas, ensures that you leave with renewed belief in the enduring value of American craft."
Beyond the personal satisfaction derived from making and interacting with things handcrafted, Rayburn sees an important connection between the practice and appreciation of craft skills and our contemporary lives. "Things handcrafted challenge our preconceived ideas, stimulate our senses and enrich our lives," said Rayburn. "It is an investment in your values and your culture that supports a local way of life, environmental stewardship and craft heritage." Craft is a meaningful cultural resource that significantly impacts lives, communities, and the economy. "Things handmade are wonderfully nuanced", notes Rayburn, "They challenge us to appreciate difference and imperfection. If we do not have the opportunity to experience this in our material environment, how can we hope to meet and engage with people and ideas different than ours, with tolerance and respect?" For those seeking alternative ways of problem solving, making new connections and communicating effectively, the transformative experience of working in a retreat setting with a supportive creative atmosphere offers an opportunity to be fully focused, present and open to revolution. In this way craft traditions and our connections to them are kept vital.
Visit Jenne Rayburn's collections http://www.jennerayburn.com
Visit Jenne Rayburn on Facebook http://www.facebook.com/Jenne.Rayburn
About:
Jenne Rayburn is a Boston-based jewelry/textile artist who also studied interior design and architecture, and her work evolves from the overlap between architecture, design, technology and art. Jenne is known for her designs made from reusing vintage textiles, findings and components, found while foraging in antique shops and vintage markets. A graduate of the University of Washington where she studied metalsmithing and fiber arts, and of the University of Massachusetts, Amherst with a MS in Design, Jenne has been designing jewelry and apparel for over 20 years. Perpetual curiosity and a passion for experimentation resulted in her first jewelry collection made from etched copper and brilliantly colored enamel. Since then Jenne has created six unique collections that combine careful workmanship with unique materials and designs. It is her hope that the wearers of her pieces will find joy in a delightful artistic statement, and also something that enhances their individuality and confidence. Her work is carried in local galleries and online. Please visit http://www.jennerayburn.com for Jenne Rayburn's online flagship store. For wholesale information, please visit jennerayburn.com/wholesale.com
###