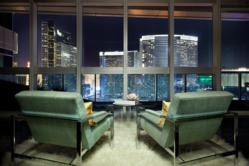 Sales volume during the four months since the building's re-launch event in March is up over 300 percent year-over-year and has surpassed the volume in all of 2011.
Las Vegas, NV (PRWEB) July 31, 2012
The completion of a $3 million redesign at The Martin by owner iStar Residential has sparked an incredible flurry of buyer activity. Sales volume during the four months since the building's re-launch event in March is up over 300 percent year-over-year and has surpassed the volume in all of 2011.
With a record 15 contracts written in June, The Martin has sold 45 residences since the redesigned building was unveiled, generating in excess of $13 million in revenue. This compares to 42 residences sold during all of 2011 prior to the redesign, which was completed in conjunction with The Kor Group, the developers and design team behind The Viceroy Santa Monica and The Viceroy Anguilla.
The extensive renovation addressed nearly every inch of the building's common areas, including the exterior landscaping, porte-cochere, lobby, pool and spa area, garden lounge and fitness center. The improvements have resonated with prospective buyers and have led to an increase in activity that has far outpaced the broader Las Vegas condominium market. Sales at The Martin accounted for nearly 30 percent of the transactions amongst high-rise Strip properties during the second quarter of 2012, according to High Rise Living, LLC.
"We jumped from seven to 30 percent market share in a matter of four months, which is nothing short of amazing. Our larger homes with a view are flying off the market and the activity that we are seeing is allowing many prospective buyers to regain confidence and optimism in the Vegas market," said Tripp DuBois, of The Kor Group, the company handling the sales and marketing for The Martin. "There has been a definite shift in the market since March, especially from buyers in the $500K and up price range. Buyers who have been watching and waiting on the sidelines are now making a move, largely in part to our sustained sales and the fact that prices have remained steady. Without a doubt, our success is attributed to the redesign and offering residents five-star amenities and services at an attractive price point. This validates iStar Financial's $3 million reinvestment to get ahead of the market."
The Martin is quickly approaching the 50 percent sold mark with 172 of 372 residences sold. Pricing has remained unchanged since 2010 with the exception of several floor plans, where prices have increased. One- and two-bedroom residences are priced from the mid $200s to over $1.5 million. Seven penthouses grace the top floors and are priced up to $7 million.
"Buyers from the Southwest and cooler climates, including Canada, continue to flood the sales office," said DuBois. "They attribute their decision to feeling confident that the market has stabilized and they love the way we've transformed the building. The Martin is a well-designed, well-located luxury residential project offering five-star amenities and services at an affordable level, which can and will never be replicated again at these price points. We've also seen a substantial increase in owner referrals. Now that our renovation is complete, we've been hosting cocktail mixers, fitness classes, pool parties, cultural tours and the like. Prospective buyers, friends of owners and realtors experience first-hand the strength of our community and world-class service. This strong emotional connection has allowed us to build loyal, long-term, successful relationships that benefit all stakeholders."
For more information about The Martin, call 702-425-3801 or visit http://www.themartin.com. The Martin is located at 4471 Dean Martin Drive, with entry off Jerry Lewis Way.
About The Martin
Located one-block west of the Las Vegas Strip and steps from the heart of CityCenter, The Martin is a 45-story high-rise residential tower offering unparalleled views, five-star services and amenities and exclusive access to the best of what Las Vegas has to offer. The Martin features 374 one- and two-bedroom modern, spacious residences, all of which have views of the Strip, designer finishes, state-of-the-art technology and spacious floor plans, ranging in size from 1,035 to 1,962 square feet. Seven spectacular penthouses, from 3,653 to over 13,000 square feet, grace the top floors. A $3 million renovation was recently completed by The Kor Group, the developers and design team behind The Viceroy Santa Monica and The Viceroy Anguilla, and award-winning landscape architect Mark Tessier. For more information, visit http://www.themartin.com or call 702-425-3801.
About iStar Residential
A division of iStar Financial, iStar Residential is one of the largest investors in luxury condominium, multifamily and master-planned residential developments throughout the United States, having financed and invested in $10 billion of residential projects since 1993. iStar Residential's portfolio has included interests in over 18,000 condominium units in the nation's top markets and 65,000 acres in master planned communities having the potential for an estimated 50,000 single family and multifamily units. The Company's unique, fully-integrated platform extends from property entitlement and development to construction, bridge and long-term financing through asset servicing, property and portfolio management. iStar Residential is a division of iStar Financial, a $9 billion finance and investment company focused on the real estate industry and traded on the New York Stock Exchange under the symbol "SFI". For more information, visit http://www.istarresidential.com.
About The Kor Group
Founded in 1999, The Kor Group is a fully-integrated real estate investment, development and management firm that also works with third-party clients to deliver a comprehensive package of advisory services. Kor has been recognized in the industry as a leading innovator in the design and development of lifestyle properties. Its track record demonstrates its expertise in bringing new life to an investment, often through design coupled with extensive rehabilitation and repositioning. By fusing creative design with an agile investment and development discipline, Kor has amassed a portfolio of high performing assets and has built a signature brand translatable across its properties. Since inception, Kor has acquired and developed hospitality, residential, and office assets valued in excess of $2 billion. Kor was also the force behind the origination and development of the renowned Viceroy hotel brand, whose immense success led to the spin-off of its hotel management division, Viceroy Hotel Group, in 2008. Today, Kor maintains the same commitment to creative design and distinctive branding to bring enhanced value to its investments and the investments of its third-party clients. Visit http://www.thekorgroup.com.
###