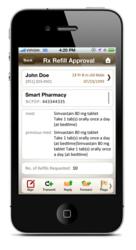 Los Angeles, CA (PRWEB) July 31, 2012
iPatientCare, Inc., a pioneer in mHealth and cloud based ambulatory EHR, integrated Practice Management and Patient Portal solutions announced its strategy for mHealth and iOS based products.
iPatientCare has emerged as one of the visionaries of the US healthcare IT products and solutions market place. Mobile MedData on a Palm Pilot in 1997 was its first breakthrough clinical product that won the hearts of thousands of physicians, clinicians, and medical students. iPatientCare arrived with flying colors when General Alexander Haig identified Mobile MedData for Combat Casualty Care – US Army's First Responder as one of the most innovative products in World Business Review. iPatientCare has come full circle to releasing innovative solutions for mHealth with its launch of iOS product suite today.
While announcing the product release, exuberate Kedar Mehta, CTO, iPatientCare commented, "My team celebrated today as they did when we launched Mobile MedData for Palm Pilot and the First Responder for the US Army. The product architecture, however, has evolved drastically. We are completely Web based today, committed to Services Oriented Architecture that supports native iOS apps to provide much desired "pro-active" clinical alerts to iPatientCare users. We have much longer term vision to support iOS as a platform."
"To me, "i" in iPatientCare always stood for "innovation." Seeing it multiplied today makes me feel very proud of Kedar and his team" commented Udayan Mandavia, Chief Executive Officer, iPatientCare with obvious confidence and pride visible on his face. He further announced that "We involve iPatientCare users by offering them these innovations for free at our National User Conference (NUCON) which will be held from November 2-4, 2012 at Hyatt Regency, Chicago this year. Once officially launched, these products would need minimum subscription and advertisement revenues to support the sponsors."
About iPatientCare
iPatientCare, Inc. is a privately held medical informatics company based at Woodbridge, New Jersey. The company is known for its pioneering contribution to mHealth and Cloud based unified product suite that include Electronic Health/Medical Record and integrated Practice Management/Billing System, Patient Portal/PHR, Health Information Exchange (HIE), and mobile point-of-care solutions that serve the ambulatory, acute/sub acute, emergency and home health market segments. iPatientCare EHR was among the first to be certified by CCHIT in July 2006 and is currently CCHIT 2011 fully certified and ONC-ATCB 2011/2012 Certified Complete EHR for Meaningful Use. The company has won numerous awards for its EHR technology and is recognized as an innovator in the field, being a pioneer to offer an EHR technology on a handheld device, an innovative First Responder technology to the US Army for its Theatre Medical Information System, the first to offer a Cloud based EHR product. iPatientCare is recognized as one of the best EHR and Integrated PM System for small and medium sized physicians' offices; has been awarded most number of industry Awards; and has been recognized as a preferred/MU partner by numerous Regional Extension Centers (REC), hospitals/health systems, and academies. Visit http://www.iPatientCare.com for more information.
Contact:
iPatientCare, Inc.
One Woodbridge Center, Suite 812, Woodbridge, New Jersey 07095
Phone: 800-741-0981 | Fax: 732.676.7667 | Email: info(at)ipatientcare(dot)com