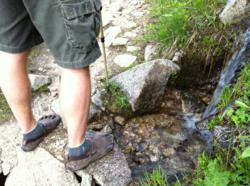 I'm a hiking guide and a telemark skier in my mid 50s and I don't have any knee injuries common with overuse and aging
(PRWEB) July 31, 2012
Kirkland Shave, Program Director and Head Guide at Mountain Trek Fitness Retreat and Weight Loss Spa in British Columbia has been guiding guests through the Rocky Mountain range for 12 years. The weight loss program at Mountain Trek offers daily, four hour hikes through the mountain alpine as the core fitness activity. As a guide, Shave hikes the equivalent of sea level to the top of Everest and back, three times over his trekking season. He does most of it barefoot.
Barefoot running and hiking has recently seen a surge of interest from aspiring health addicts looking for a freer, more natural way to move their bodies and prevent injury. While going barefoot or wearing the new minimal footwear may not cure all that ails you, there are some very compelling arguments for going shoeless, or wearing as little shoe as possible.
Advocates claim that running barefoot improves foot biomechanics and reduces injury. Recently, much has been made of the toe shoes created for running that promise improved foot health and overall wellness for the body. A study by Harvard University examined the mechanics and benefits from barefoot running, showed that barefoot endurance runners usually land on the fore-foot (fore-foot strike) before bringing down the heel. Sometimes they land with a flat foot (mid-foot strike) and rarely on the heel (rear-foot strike). In contrast, habitually shod-runners tend to have a rear-foot strike, facilitated by the elevated and cushioned heel of the modern running shoe. Findings showed that fore-foot- and mid-foot-strike gaits may protect the feet and lower limbs from some of the impact related injuries experienced by many runners.
Shave supports claims that learning to walk barefoot properly has many health benefits. "Without shoes, you activate the smaller muscles in your feet, ankles, legs, and hips that are responsible for better balance and coordination. It also builds and stretches calf muscles and the achilles tendon that protect and support the knees, ankles and shins." For Shave this is significant as his knees are a core part of his livelihood. "I'm a hiking guide and a telemark skier in my mid 50s and I don't have any knee injuries common with overuse and aging."
Shave admits to no longer wearing hiking boots; when he trekked to Everest Base Camp in the spring of 2012, he did so wearing a pair of the Vibram Fivefinger shoes. Guests to Mountain Trek are amazed at Shave's barefoot bent, but it's not something that he encourages new guests who are there to kick start their health and wellness to do right away. Participants in the program are there for a health retreat and often have physical injuries and limitations. "If people are interested, I recommend barefoot walking on the carpet, then the lawn, then the beach and finally on a soft forest trail," offers Shave. "We teach gait for hiking, which involves shortening the stride and lifting from the knee. These can naturally help bring people into a fore-foot-strike while protecting knees and ankles."
As an avid barefoot hiker Shave cautions those interested in experimenting with a shoeless alternative do so gradually. "This is a fad that can potentially cause problems if people continue to walk with a heel strike; it takes time to retrain but it is possible." He likens that retraining to learning how to sit on an exercise ball at the computer. "If you don't pay attention to your posture, you'll slump and hurt your back. You need to bring mindfulness to the situation until it becomes natural."
Learn More At Mountain Trek
Contact:
Kirkland Shave
1.800.661.5161
http://www.mountaintrek.com