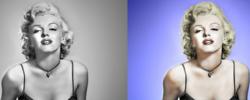 What would Marilyn Monroe look like with today's permanent makeup? That's the fun question we'll answer.
New York, NY (PRWEB) July 31, 2012
Millions of women would kill to have them for a day. Amazingly, 50 years after her death, Marilyn Monroe still has a firm grip on them: the mesmerized attention of others…and a timeless, sexy look. Arguably one of the greatest American female icons, Ms. Monroe's life continues to have a major impact on women's beauty and style. Leading permanent makeup expert Sally Hayes remembers Marilyn Monroe with a 5-part tribute. She'll be looking at the legendary face she would have loved to touch by applying her permanent makeup expertise to it.
"What would Marilyn Monroe look like with today's permanent makeup?," asks Hayes. "That's the fun question we'll answer. If you were an Olympic athlete, you'd dream of winning a gold medal. If you were a politician, you'd dream of being president. And if you enjoyed a great career in the beauty or cosmetics industry as I have, it would be a dream come true to work with a classic American icon like Marilyn Monroe."
Hayes says the idea of doing a tribute to Monroe came about during a recent conversation on board a flight home to Scottsdale, Arizona, following a few days of work at her new New York City location inside the offices of Tribeca Plastic Surgery. "Because I had an appointment with a celebrity from Manhattan that day," says Hayes, "we got to talking about other celebrities for whom I've done permanent makeup. Then the conversation shifted to those I wished I could work on. Naturally, the name and beauty of Marilyn Monroe instantly came to mind."
Hayes and her team went to work immediately on bringing the project to life. She admits, "Once we realized the 50th Anniversary of Marilyn's passing was approaching, it kind of felt like this was something meant to be." They did research on Monroe's history using cosmetics, looked into acquiring non-copyright photos of her, worked on potential sketches of what techniques to use for enhancing the natural contours of her facial features, and collaborated with a photoshop expert to create the finishing touches of what the "Modern Marilyn Monroe" would look like with permanent makeup by Sally Hayes. On each of the first 5 days of August, a new segment will appear daily on http://www.PermanentMakeup.com looking at a different part of Monroe's magical, memorable face.
Marilyn Monroe was just 36 years old when she was found dead in her Brentwood home on August 5, 1962. Listed by the Los Angeles County Coroner's Office as a probable suicide, it has been one of the most popular death conspiracies in American history. "So much has been written and rumored about her death as well as her life," says Hayes. "I was hoping to do something entertaining, and something which reminds everyone how groundbreaking Marilyn Monroe was when it came to enhancing women's beauty. It was really interesting to take a good look at all she did to create her personalized appearance and to explore what I would have done to help her had I been given the chance. I hope others enjoy seeing her in this whole new light, too."
About Sally Hayes Permanent Makeup
Sally Hayes is the nation's leading permanent makeup expert artist who has performed tens of thousands of successful permanent makeup procedures since 1988. Many of the nation's top cosmetic surgeons endorse her and refer patients to her. She has offices in Scottsdale, AZ, New York, NY, Las Vegas, NV, and the city where Monroe was buried, Los Angeles, CA. Her popular website is viewed as the leading authority for online information about permanent makeup.