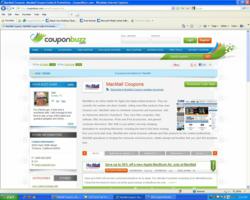 The Nexus 7 is a fascinating player in the world of Tablet technology...
Houston, TX (PRWEB) July 31, 2012
Today CouponBuzz.com featured a limited time MacMall.com coupon link which enables online shoppers to pre-order the new Nexus 7 Tablet for just $249 dollars. The Nexus 7 is the latest Tablet from Google. In addition to functioning in every way that consumers have come to consider standard for Tablets, and with a host of fascinating Apps, the Nexus 7 is crafted as the ideal interface for the multimedia treasure trove that is Google Play. However, the MacMall.com coupon to pre-order the Nexus 7 Tablet for just $249 dollars is a strictly limited time offer, valid only thru midnight on July 31st, 2012.
"The Nexus 7 is a fascinating player in the world of Tablet technology," stated Justin Bowen, CEO of CouponBuzz.com. "Its quad-core and sensors like the gyroscope are advancing Tablet gaming to the next level. The Nexus 7 offers some incredible features that might just be enough to entice hard-core gamers away from their traditionally laptop and desktop computing preferences."
Interested shoppers can click here to find out the full information on how and where to pre-order the Nexus 7 tablet through MacMall.com, but remember, the pre-order offer of $249 dollars is only valid thru the end of July. Expected to be a rapid sell-out, the Nexus 7 combines some standard Tablet features with some truly extraordinary extras. Powered by Android 4.1 Jelly Bean, it hosts the latest version of the world's most popular platform. A 7 inch high resolution display brings HD television, movies and streaming to vivid clarity, and creates a dynamic gaming experience. In addition, a full battery charge enables 9 hours of HD video playback, or 10 hours of reading or internet browsing.
But where the Nexus 7 really shines is its integrated connection with Google Play, and the extra built-in capabilities just for gaming and multimedia usage. There are over 600,000 apps and games available on Google Play, and all of them are better on the Nexus 7. An Invidia Tegra 3 quad-core processor makes everything happen faster with this tablet, from loading internet pages and running multiple apps, to amazingly smooth game-play. Special sensors like the accelerometer and gyroscope make action games an incredibly immersive experience, and the Nexus 7 places all of the fabulous features of Google Play at the user's fingertips. Browse through over 4 million eBooks, with hit movies and television shows instantly available in full HD, without downloading, syncing, or taking up storage space.
Individuals interested in pre-ordering the Nexus 7 Tablet from Google can lock in an amazing deal for just $249 dollars via the MacMall.com coupon featured today by CouponBuzz.com. The coupon is valid thru midnight July 31st, 2012, and is located in CouponBuzz.com's recently launched section for MacMall.com special offers, here http://couponbuzz.com/macmall-coupons.html.