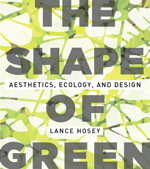 For every study demonstrating the benefits hidden inside particular materials and production methods, there are other studies showing how certain shapes, patterns, images, colors, or textures can create environmental, social, and economic value.
Washington DC (PRWEB) July 31, 2012
The Security and Sustainability Forum announces an exclusive Island Press discount on Lance Hosey's "The Shape of Green: Aesthetics, Ecology, and Design." Hosey's work outlines principles for the aesthetics of sustainable design, connecting the examination of what makes something aesthetically pleasing with practical design challenges:

Can the shape of a car make it more aerodynamic and more attractive at the same time?
Could buildings be constructed of porous materials that simultaneously clean the air and soothe the skin?
Can cities become verdant, productive landscapes instead of wastelands of concrete?
"The Shape of Green" postulates that design embracing the principles of ecology could revolutionize every aspect of design in both substance and style. Using scientific research, Hosey illustrates how design at every scale can enhance comfort, community, and conservation.
"The Shape of Green" is a perfect companion reading for SSF's "Urbanization in a Growing World" series, offering a complementary perspective on product development, architectural design, and city planning. Order by August 6th to get 30% off the soft cover book price!
About the SSF Urbanization Free Webinar Series
Shifting populations are leading to shifting concerns and shifting development paradigms. SSF's free webinar series, "Urbanization in Growing World" examines the challenges and opportunities presented by rapid urbanization. Partnering with the World Bank, the International Housing Coalition, Abt Associates, the Penn Institute for Urban Research, and the Wilson Center, the feature series explores urban food security, infrastructure, economic development, and governance from an academic, advocacy, and development perspective.
About the Security and Sustainability Forum
SSF is a public interest, membership organization that hosts free, live educational webinars. Sessions feature panels of global experts who address human health and welfare impacts caused by climate change and other environmental disruptions. The webinars outline how sustainable approaches to minimize environmental stresses can reduce instability and conflicts, thereby improving the physical and economic security of humankind. Our programs seek to not only educate our audience about sustainability and how it fits into their areas of interest and work, but also spark new ideas about resilient approaches and solutions.