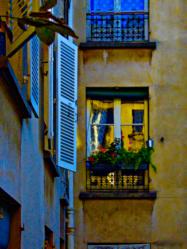 The curator's blog is a great opportunity to honor the best work in our collection on a regular basis
Franklin Lakes, NJ (PRWEB) July 31, 2012
PrintedArt published the latest edition of its curator's blog exploring the theme of "City Life". This edition covers scenes from major cities around the world shot by some of PrintedArt's most prolific collection photographers.
"The curator's blog is a great opportunity to honor the best work in our collection on a regular basis", said Klaus Sonnenleiter, president of PrintedArt. The city life edition features Raymond St. Arnaud's Parisian backyards, Anthony Davis' views of New York from across the river, Timm Gluege's shot of a Berlin scooter, Aris Duenas' California train, Kim Wilson's capture of post-carnival Rio and Carly Erin O'Neil's leap between tradition and modernity in Liege, Belgium. The curator's blog is published weekly on PrintedArt.com
About PrintedArt
PrintedArt is a web-based fine art photography collection, hand-selected by our experienced staff of curators who have created a highly selective gallery for the home decor and hospitality markets.
Every image in the collection is produced in a modern gallery-grade display format with acrylic finish, as a gallery-wrap canvas panel or as a wall mural.
The PrintedArt Photolab allows customers to print their own images in the same professional quality as our fine art collection.
For more information, contact PrintedArt at info@printedart.com or at +1 201 301 9113.