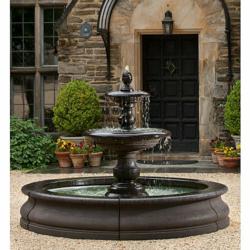 An industry-leading provider of predesigned and custom created water features.
Arden, North Carolina (PRWEB) July 31, 2012
Kinetic Fountains, an industry-leading provider of predesigned and custom created water features, has today revealed new options for home and business water fountains. Kinetic Fountains has earned a reputation for providing the highest caliber fountains in terms of quality, design and functionality, and the new options on offer are certainly in keeping with that reputation.
Water walls have become increasingly popular in recent years and can be used in numerous locations, from doctor's offices to the home. Kinetic Fountains is proud to offer new water features in this vein that incorporate materials like dark copper, natural slate, clear glass and black, oxidized metal.
New garden fountains are also available, and can be found in a range of sizes, shapes and styles. Some new water features available from the company include solar fountains that harness the power of the sun to create a relaxing stream of falling water without increasing a home's carbon footprint.
Kinetic Fountains also offers a range of new indoor fountain designs and types. Tabletop fountains like the new Calming Bamboo Bowl Fountain and Natural Pagoda Tabletop Fountain bring the beauty and simplicity of Eastern tradition into any home, but there are also Native American themes, European themes and many other new options from which to choose.
New floor fountain models are also now available, including options made from sleek, clean stainless steel, rustic, warm copper and beautifully designed glass as well. These water features are designed for indoor use, and can play a central role in either the home or business.
To learn more about the new water features available from Kinetic Fountains or to place an order, visit the company at http://www.KineticFountains.com.
About Kinetic Fountains: Kinetic Fountains is located in the stunning Blue Ridge Mountains in North Carolina. The company is dedicated to giving customers the means to enjoy the incomparable beauty of nature and the health benefits offered by running water in the form of indoor fountains, outdoor fountains, logoed fountains and more.