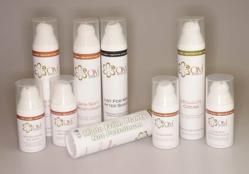 With the introduction of OM Ayurvedic™ brand, we are taking a major step in reversing an alarming trend of petro-chemicals and synthetic compounds dominating our life-style
Raleigh, NC (PRWEB) July 31, 2012
Majority of skin care and personal care products in the market today are made using petroleum based ingredients. Even products touting to be "natural" may contain one or more of these petro-chemicals. These ingredients are highly processed and bleached, disguising the finished products behind white or clear look appearing to be "pure" to unsuspecting consumers. In addition to contributing to the environmental damage, they get readily absorbed by skin, create imbalance in body mechanisms and potentially cause irreversible health problems. Why do corporations continue using them? Because these ingredients are cheap, they are easy to formulate with and they give their mass produced products a long shelf life hence very profitable.
In contrast, OM Ayurvedic skin care and wellness products are made entirely from holistic plant ingredients relying on over 5000 years old "science of life". According to Ayurveda the skin is not an isolated part of the body. The skin is widely connected - intellectually, physically, sensually and spiritually. Our skin naturally reflects changes in every system of the body and affects them as well. It's our largest organ and is regarded as a second brain for the body.
The traditional Ayurvedic beauty principle states that nothing should be applied to the skin if it cannot be taken internally. For thousands of years Ayurveda has taught that the skin absorbs nutrients that will affect our body on a cellular level. Today, university study provides evidence demonstrating that over 60% of what we put on our body gets absorbed and ends up in our blood stream.
"With the introduction of OM Ayurvedic™ brand, we are taking a major step in reversing an alarming trend of petro-chemicals and synthetic compounds dominating our life-style" says Sudhir Shah the founder and CEO of OM Ayurvedic™. "We hope that with heightened awareness among consumers, large corporations would also eliminate petro-chemicals from their products and replace them with safe alternatives".
OM Ayurvedic™ manufactures and markets holistic beauty, health and wellness products. Made in USA, these products are formulated to work with body's inherent healing mechanisms restoring its natural balance. All the products are free of animal ingredients and animal testing. For more information visit http://www.omayurvedic.com.