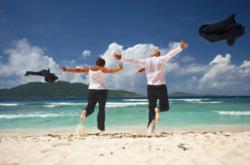 The Research show's real valid concerns for the over 50s who have retired.
(PRWEB UK) 31 July 2012
In case you've been away from the planet for the last few days the 2012 London Olympic Games have started, with perhaps medals not flowing as freely as hoped for (yet at least!).
So at TheRetirementCentre.com as part of our research to deepen understanding of everyday life in retirement, thought it would be interesting to find out what event the over 50's would like to take part in if they could compete at the Olympics. The result of this research showed that the most popular event was Swimming, followed by Cycling and 100 meters. With the least popular event being volleyball, one respondent even suggested Tea drinking should be a new sport.
The more serious part of the research was to take a more detailed look into the biggest areas of concern for over 50's who have retired.
Health is biggest concern for over 50's
Perhaps unsurprisingly, health is the main concern of those surveyed. According to data from The World Bank life expectancy in the UK has increased by 5 years to 80.4 years in the last 20 years alone, so it seems that whilst the figures point to a longer life as individuals we are far more aware of our health.
5 point guide to healthier living.

Eating five fruit or vegetable a day provides important vitamins and minerals. Eating healthier also makes you feel better both physically and mentally.
Try at least 30 minutes of exercise at least three times a week. This can be anything that you enjoy from swimming to dancing as long as you are increasing your heart rate.
Socialise, playing games, solving puzzles and cross words, or even learn to do something new all keep your brain active.
Drink alcohol moderately as drinking too much can raise blood pressure.
Have regular health checks to check for high cholesterol and high blood pressure and to provide peace of mind. Contact NHS Direct for confidential advice and information on health matters: http://www.nhsdirect.nhs.uk/
Living Costs remain a big concern
Living costs are the second biggest concern for those in retirement, whilst inflation has decreased recently it still stands 2.4%, yet income many retirees are receiving from saving accounts is extremely low compared to what it has been in the past.
5 points for reducing living costs
Ensure that you are shopping around for your utility bills, if you haven't done this before then you could potentially save £100's - you can quickly and easily at http://www.energylinx.co.uk/energy/retirement-centre/.
Review you insurance each year, as insurers will often provide discounts to attract new customers which are paid for by increasing premiums for other customers, for home insurance go to http://www.theretirementcentre.com/insurance.
Compare savings rates available, if you do not need instant access to all your savings consider splitting your savings into two accounts, as you will often receive a better savings rate for 'committing' your savings for a longer period of time. To see what the best savings rates are in the market view http://www.theretirementcentre.com/product/savings-accounts.
Plan your meals, don't go to a supermarket without a shopping list as you will spend more money. Equally try not to go shopping when you are hungry - as again you will buy more.
When you are going out or looking for presents look on voucher sites such as http://www.theretirementcentre.com/offers to see what discounts are available.
Notes to editors:
About TheRetirementCentre.com
TheRetirementCentre.com takes a fresh approach to the market and provides free guidance on a wide range of subjects, helping the consumer to become better informed and able to make their own educated choices. TheRetirementCentre.com searches the market to bring the very best money, insurance and travel products and deals to its customers offering everything retirees need under one roof.
TheRetirementCentre.com offers products and services in the following Categories Money, Household, Insurance, Travel & More. For further details visit http://www.theretirementcentre.com.