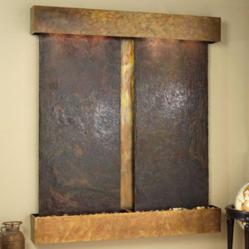 One of the nation's leading providers of wall, table and floor fountains for indoor use.
Arden, North Carolina (PRWEB) July 31, 2012
IndoorFountains.com, one of the nation's leading providers of wall, table and floor fountains for indoor use, has today released new options for customers in terms of construction materials. Ensuring that each customer is able to enjoy indoor fountains that match their aesthetic needs is an important goal for the company, and the new materials are stylish, beautiful and durable.
One option for customers is to choose indoor fountains made with slate – a natural, long-lasting stone known for its elegance and intrinsic beauty. In addition, customers can choose fountains made from copper, which is a timeless metal, capable of creating streamlined designs for business use or unique options for use in the home. Stainless steel is another material now on offer, which allows home and business owners to incorporate a sleek, modern, clean look into any room or area with considerable ease.
IndoorFountains.com also offers glass indoor fountains, which can combine the beauty of glass with natural stone and a variety of different metals. Natural stone water fountains are also available, and can provide an aged look and a direct connection with nature. Finally, the company is also offering fountains made with ceramic, which is an ideal material for both tabletop fountains and floor fountains.
These new construction materials are available across a wide range of styles and types for indoor fountains, including wall fountains, floor fountains, tabletop fountains and even logo fountains custom designed for business use. Customers can purchase predesigned fountains, or use the company's convenient, simple customization process to achieve a unique, one-of-a-kind look.
To find out more about the new materials on offer and the beautiful indoor fountains on offer, visit the company at http://www.IndoorFountains.com.
About Indoor Fountains: IndoorFountains.com is a new niche website developed by Kinetic Fountains, located in the stunning Blue Ridge Mountains in North Carolina. The company is dedicated to giving customers the means to enjoy the incomparable beauty of nature and the health benefits offered by running water in the form of indoor fountains, outdoor fountains, logoed fountains and more.