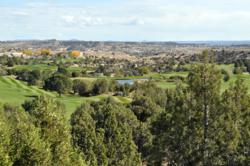 Farmington, N.M. (PRWEB) July 31, 2012
This week the Farmington Parks, Recreation, & Cultural Affairs(PRCA) Department will dedication another expansion of the city's walking trails along the Animas River, trails which will eventually run miles in either direction along the Animas and San Juan Rivers. This effort is one of many in Farmington's development of impressive recreational infrastructure: museums, a nature center, an aquatic center, an amphitheater and a golf course among others.
These attractions and many special events have been developed and promoted by the Farmington's PRCA in a close partnership with the Farmington Convention and Visitors Bureau. In collaboration rare in destination marketing, staff from both organizations work together to lure visitors and groups to town. Each provides support and services for tournaments, conferences and special events that have put Farmington on the map as a friendly and relaxed center for outdoor recreation.
Among the city's most successful attractions are:
Pinon Hills the city operated golf course which opened to much acclaim in 1998 after being cleverly and frugally designed by Ken Dye for less than two million dollars. Since then, golf fans have traveled long distances to play on the course's terraced greens, arroyos and sandstone hills. Pinon Hills has been consistently rated one of the best municipal golf courses in the country.
Ricketts Ballpark, the crown jewel of the city's ballparks, is the home of prestigious Connie Mack World Series. The 6100-seat stadium won the National Baseball Diamond of the Year Award in 1987 and in 1992. While Ricketts Park is managed by the PRCA, it was developed by volunteer efforts and community donations. Today Farmington is known throughout the southwest for its baseball tournaments.
Lions Wilderness Amphitheater built by the city in 1988 that has been the site of summer theater productions in beautiful natural sandstone setting ever since. Sandstone Productions, a professional regional theater company, works under contract to the PRCA, Its productions are marketed by the Conference & Visitors Bureau.
Three perennially successful annual events organized and marketed by PRCA and the CVB are Freedom Days, a multiday Fourth of July celebration, The Road Apple Rally, touted as the oldest mountain bike race in the country, and the XTERRA Four Corners Off-Road Triathlon that brings top endurance athletes to the area each spring.
The PRCA also manages two museums and a nature center, a championship aquatics center, and the community Civic Center, all of which play a role in luring visitors to town. The Farmington Convention & Visitors Bureau markets Farmington and the surrounding Four Corners area with advertising and by providing visitor information and staff support for events and meetings held in the city. Together these two organizations have gone a long way to invigorate this busy, small city in the high desert of the Four Corners.