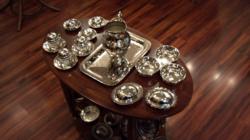 Wellesley, MA (PRWEB) July 31, 2012
Cafe Mangal, a Wellesley, Mass. restaurant that offers Mediterranean and American cuisine, recently announced that is has expanded its gift shop. Using retail space in the same building, Cafe Mangal has opened Muna, a unique gift shop that offers a distinctive selection of high quality gifts from Turkey.
Cafe Mangal's owners have been selling gift items from Turkey in a small space in the cafe for many years. They expanded the gift shop, which is still an extension of the restaurant, in an effort to offer customers a broader collection of authentic Turkish gifts. The new space is tastefully decorated with family furniture, which showcases silver jewelry, shawls, silk scarves, authentic pottery, Turkish bath towels, cushions, table clothes, natural olive oil soaps and numerous other gifts and collectables from Turkey.
"It's called Muna, my mother's nickname, because she's such an interesting person and the shop is filled with items she loves, which I hand pick from Turkey," said Berna Ozargun, owner of Cafe Mangal. "I have long standing contacts with vendors in Istanbul and other nearby towns, where I personally choose unique items that best portray the culture, arts, and crafts of my home country."
Cafe Mangal has long been considered to be the finest Mediterranean fine dining restaurant in the Boston area. The owner, Berna Ozargun, has gone to great lengths to create authentic Mediterranean cuisine with a flare that the locals love and her unique way of running the restaurant by creating two distinctly different atmospheres for lunch and dinner service, attests to her commitment to offering a high quality dining experience.
Muna is open during the same business hours as Cafe Mangal or by appointment. The gift shop currently accepts only cash and personal checks. For complete information about the unique Turkish gifts and cuisine that Cafe Mangal has to offer, including a complete menu, visit their website at http://www.cafemangal.com.
About the company:
Café Mangal considered to be the best Mediterranean restaurant around Boston offers two great restaurants in 1. Opening in the morning the restaurant is set up as a casual cafe that continues through lunch. Then the restaurant is closed from 3:30pm to 6pm. During that time the decor is transformed into an elegant dining room with fine linens and dishes appropriate to the gourmet fare served at night. Their motto is "Smile, Share, and Serve" which means they want their patrons to experience the warmth of their hospitality and enjoy the great fare. For more information visit their website at http://www.cafemangal.com.