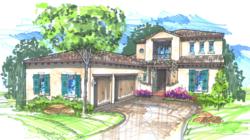 Winter Park, FL (PRWEB) July 31, 2012
Marc-Michaels Interior Design Inc. is designing a new model home for John Cannon Homes Inc. The Baylin model is located in the new Haddington community of Club East Village located in Lakewood Ranch, Fla. The two-story Tuscan inspired home is approximately 3,325 square feet and elegantly designed in a California casual style that will appeal to the luxury empty-nester buyer.
The great room and dining area of The Baylin will have a sophisticated mood created by a soothing color palette of soft greys that will be contrasted with amber tones. Modern energy is created throughout the home with clean silhouettes, rich natural textures and polished metal accents mixed with dark walnut wood tones. The exterior of the home features a summer kitchen and a dramatic entertainment area highlighted by a fire pit in the pool area.
For 25 years, John Cannon Homes, a custom home builder located in Sarasota, Fla., has been providing an unmatched level of personal service and customization from concept to completion having built over 1,000 custom homes along Florida's southwest coast. In addition to over 265 Parade of Homes Awards, the company has been recognized by readers of the Sarasota Herald-Tribune as Sarasota's Best Builder for the past 19 years.
Consistently ranked as an industry leader, Marc-Michaels Interior Design Inc. has been providing highly imaginative interior design and merchandising services more than 26 years. An emphasis on interior detailing combined with a "casually elegant" approach to design form a unique offering sought by clients on an international level. The firm specializes in translating its signature look to private residences, commercial projects and model-home merchandising. Offices are located in Winter Park and Boca Raton, Fla. For more information, visit http://www.marc-michaels.com.