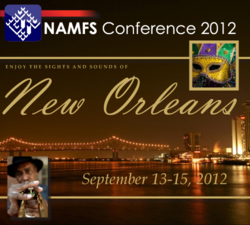 Do not miss out on one of the biggest industry events of 2012. NAMFS has exciting education and networking opportunities, as well as entertaining activities planned. Deanna Alfredo NAMFS President
Stow, Ohio (PRWEB) July 31, 2012
Early registration ends today for the NAMFS Conference & Expo 2012 to be held in New Orleans, Louisiana from September 13 through September 15 although full price registration will remain available until August 31. This three-day event will include volunteering, networking and educational sessions tailored to the diverse needs of the industry.
Breakout sessions for this year's event will be geared towards the Association's commitment to improving the educational resources within the industry. Friday's Business Resource Center sessions include: NAMFS Programs, HR & Motivational Strategies for the Office & Field, Customer Service & Client Retention Strategies, Marketing and Service Diversification. Saturday's sessions, sponsored by NAMFS, will mirror the Association's current training curriculum preparing participants to complete the NAMFS certification exams. Sessions include: General Industry Basics, Inspections, Pre-Sale Preservation, Post-Sale Preservation and Recurring Services. In addition to the breakout sessions, general sessions will be presented offering insights into the most recent developments within HUD, Fannie Mae and Freddie Mac that impact the field service industry.
One of the newest additions to the annual conference is our "Give Back" event. The Association's first ever outside philanthropic event, presented through a partnership with the New Orleans chapter of Rebuilding Together, will give attendees the chance to participate in a team building activity while simultaneously giving back to the community in which our conference will be hosted. Rebuilding Together focuses on assisting seniors and disabled homeowners and recently completed its 1000th property on the Gulf Coast.
The 2012 Opportunity Expo will be the largest in the history of the Association with increased exposure. It will take place over the course of two days, opening the evening of Thursday, September 13, in conjunction with the Welcome Reception and closing Friday prior to the Presidential Reception. Spanning over 16,000 square feet on a single floor of the hotel, the Expo hall will offer space for up to 50 vendors in more spacious booth settings than years past. NAMFS will also be offering two different booth sizes to fit the needs of the participating vendors.
The NAMFS Conference & Expo 2012 will be open to members but, unlike years past, subcontractors will also be given the opportunity to attend when sponsored by a member. The Association highly recommends sending both employees and subcontractors to this education driven event with the intent of preparing them to become certified to provide field services while gaining a better understanding of the industry.
Additional information regarding the NAMFS Conference & Expo 2012 is available on NAMFS.org including links regarding exhibiting, sponsoring and/or volunteering at this industry-wide event.
About NAMFS
The National Association of Mortgage Field Services, Inc. (NAMFS) is the premier trade association for the mortgage field service industry. We are dedicated to working with all entities of the industry from the Government Agencies and investors that set policy to the contractors and inspectors that perform the work.